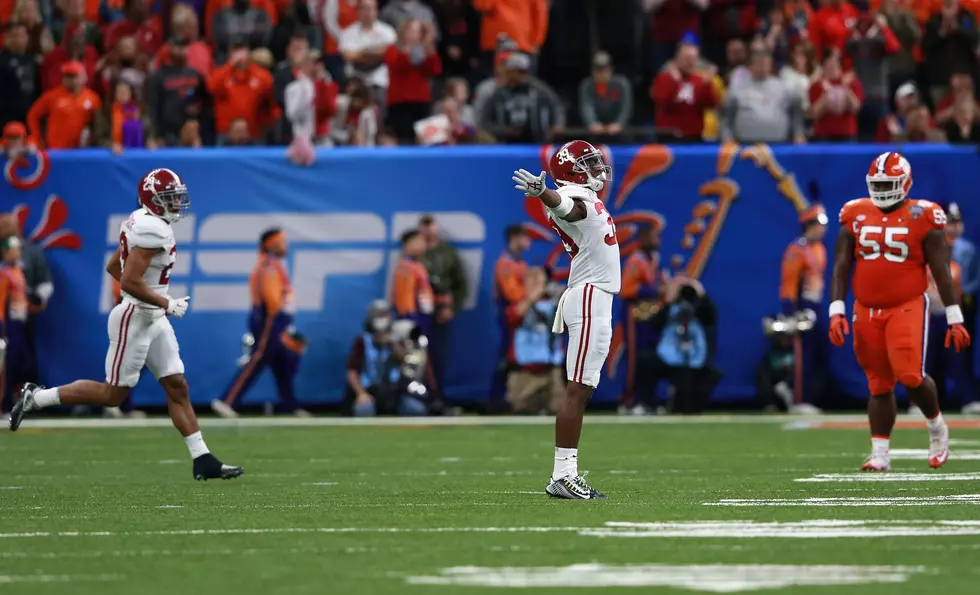 Walk-On and Walk Away With A Ring
Getty Images
Just before the weekend, Alabama football announced that they'll be holding their annual information meeting for "walk-on" players on Tuesday, Jan. 26, in the Mal Moore athletic facility.
Now, when Alabama fans think of "stars" from Crimson Tide history, it's fair to often overlook role players the program picks up from the walk-on process. However, Tide 100.9 has decided to once again crack open the history book to take a look at some walk-ons that made a major impression on UA's prolific football program.
4) Carson Tinker | Long Snapper, 2009-2013
Tinker is a native of Decatur, Alabama, where he graduated from Riverdale High School in 2008. He was with the Crimson Tide for the 2009 BCS National Championship as a walk-on reserve player but was able to earn his last two rings (2011 & 2012 BCS National Championships) as a starter on the field. Prior to his fifth year with the program, Tinker had also earned himself a full athletic scholarship from the University of Alabama. Tinker would go unselected in the 2013 NFL Draft, though he eventually found a contract with the NFL's Jacksonville Jaguars by the end of the year. In 2020, the former national champion long snapper received another NFL opportunity with the New York Giants.
3) Rashad Johnson | Safety, 2005-2008
Another Alabama native, Johnson graduated from Sulligent High School in 2005 at the top 10% of his senior class with his only football offers coming from The Citadel and the University of North Alabama. Johnson ignored his only offers and decided to walk on as a running back in Tuscaloosa and redshirted in his first season on campus. After an Alabama staff member convinced him to switch to the defensive side of the ball as a redshirt-sophomore, Johnson saw playing time in 11 games for the 2006-2007 season. In the following two seasons, 2007 and 2008, he would be unanimously named to the All-SEC 1st-Team before leaving the Capstone in 2009.  The Arizona Cardinals drafted Rashad Johnson with the 95th overall pick in the third round of the 2009 NFL Draft
2) Dabo Swinney | Wide Receiver, 1989-1992
Swinney, the third Alabama native on our list, was born and raised near Pelham, AL, where he grew up as a lifelong fan of the Alabama Crimson Tide. After walking on as a freshman under HC Bill Curry in 1989, Swinney was finally able to fulfill his childhood dreams and became a scholarship player for the Crimson Tide in his final three seasons. Swinney would cap off his playing career by winning the 1992 National Championship under Alabama coaching legend Gene Stallings. Though, he wasn't ready to head back to Pelham so soon. Swinney stayed on as a graduate assistant and coach at the Capstone for almost eight more seasons.
After a brief break from college football, Swinney found himself another coaching position for the wide receivers at Clemson University in 2003. The young Alabama native decided to stick with the Tigers and in 2009 he had earned himself the head coaching position after Tommy Bowden parted with the program. As a head coach of the Clemson Tigers, Dabo Swinney is officially 140-33 overall along with two CFP National Championship trophies (2016 and 2018). Swinney has also earned three Paul "Bear" Bryant Awards for college football's prestigious coach of the year in 2015, 2016, and 2018.
1) Levi Wallace | Cornerback, 2014-2017
Unlike our first three walk-on success stories, the journey for Levi Wallace began as an unknown football and track athlete out of Tucson High School in Tucson, Arizona. As a freshman and sophomore, Wallace fought to see the field but never prevailed as Alabama would finish the year with their 16th National Championship in the program's history.
Under football legend Nick Saban, Wallace was finally given a look, along with a scholarship, as a role player because of the work ethic shown prior to his junior season. In his senior campaign as a member of the Crimson Tide, Levi Wallace started all 14 games en route to the program's 17th title at the 2017 CFP National Championship.
Much like the outset of his college career, the two-time National Champion went unselected in the 2018 NFL Draft. But, like before, that didn't deter him from his dreams of pro football. Just two weeks following the disappointing draft, Wallace signed a three-year $1.7 million dollar deal with the Buffalo Bills. As of 2021, Wallace has proved himself as a starter to the Bills and helped Buffalo get to the AFC Championship for the organization's first crack at a Super Bowl in almost three decades.
For more content from J.R. and all the talented interns at Tide 100.9, make sure to tune in for Tide Tonight - Monday 7:00-8:00 pm, as well as, Wednesday and Friday 6:00-7:00 pm. You can hear all of our radio content on the new Tide 100.9 app!
Alabama Non Con Opponents