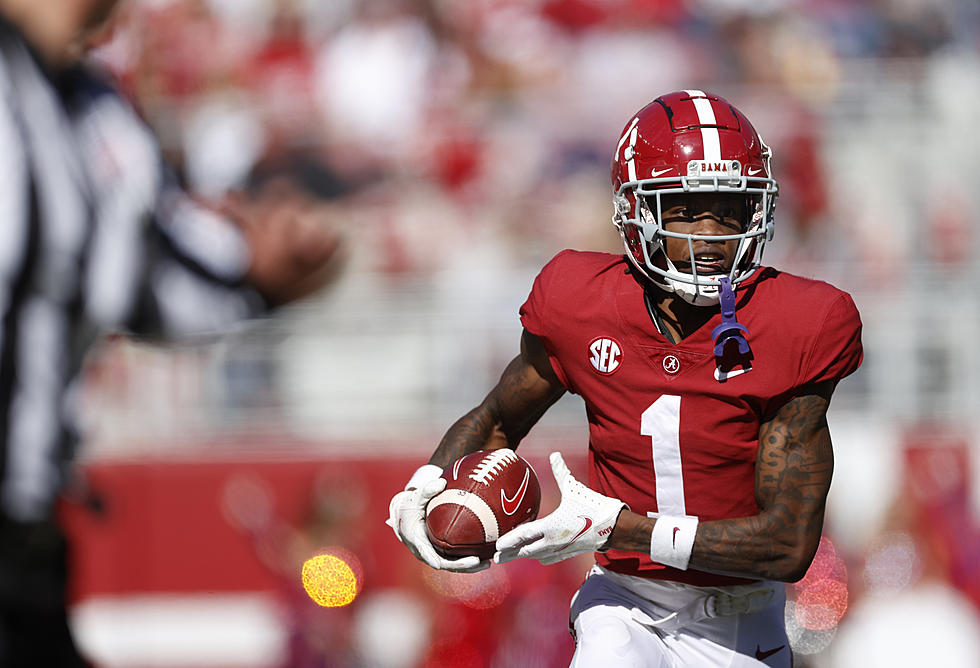 Tide destroys Aggies despite busy day for M*A*S*H unit
Crimson Tide Photos / UA Athletics
Alabama entered Saturday's home contest with the New Mexico State Aggies favored by a whopping 51.5 points  That's a tall task to cover even for being at home and ranked second in the Playoff poll and facing a 1-8 team with five straight losses.
So how'd that all work out? Alabama won by 56, 59-3. Well, the Aggies can tell their grandkids they scored first.
Said Crimson Tide head coach Nick Saban, "I was pleased with the way the guys came out and competed in the game. The energy and sense of urgency we had was what we're looking for.
"I really challenged the team this week. I told them it was 'Judgment Day' for us.
"We got to play a lot of players. I though Bryce [Young] played really well. We had some balance in the running game today,
"Defensively after the first drive we really settled down and played well."
Added Aggies coach Doug Martin: "We were just really overmatched up front. We played as hard as we could possibly play when the other team's so talented as Alabama is."
The Crimson Tide was led offensively by quarterback Young, a sophomore Heisman candidate who threw for 270 yards on 21/23 passing and five scores before an early third quarter exit.
The Tide's top rusher was Brian Robinson with 99 yards on nine carries with two touchdowns.
"My mindset is I've got to show up ready to play and do my job. It's always tough when guys go down," Robinson said.
The top receiver was Jameson Williams with six grabs totaling 158 yards and three touchdowns.
Offensive highlights included Young's 50-yard scoring strike to Williams to give the Tide its first lead of 7-3. That came after the Aggies' Justin Albertson nailed a career-long 50yard field goal to break the ice. Robinson had a 63-yard scoring jaunt.
On defense, Jalyn Armour-Davis, Christian Harris and Brian Branch  led the Tide with six stops each,. Will Anderson as usual led in sacks with two.
The special teams highlight was a blocked punt by Christian Leary that was then returned to the six by Jaylen Moody.
Alabama's game captains Saturday were Young, Anderson and Phidarian Mathis.
Injury wise Javion Cohen [wrist] was on the sidelines in a sling so Tommy Brown got the start at left guard. Chris Owens started again at center as Darrian Dalcourt dressed for warmups but did not see action.
Freshman JoJo Earle went down after a punt return late in the first quarter. Safety DeMarco Hellams was helped off the field after a second quarter tackle. He was replaced at safety by Daniel Wright. Roydell Williams left in the second quarter with an injury.
Quite the M*A*S*H unit today at Bryant-Denny.
"We're a little thin. We lost Roydell for probably a good time and JoJo is not as serious but probably still out for a while," Saban said. "Dalcourt will be back to practice Tuesday. DeMarco has a thigh bruise; He could have gone back in and played."
Next up for Alabama [9-1, 5-1 SEC] is a key 2:30 home conference game on CBS vs. Arkansas. The Razorbacks had a night game at LSU Saturday and entered that game 6-3, 2-3.
The 2021 Alabama Football Schedule in Photos
Alabama Crimson Tide All-Time Rushing Leaders
Alabama Non Con Opponents