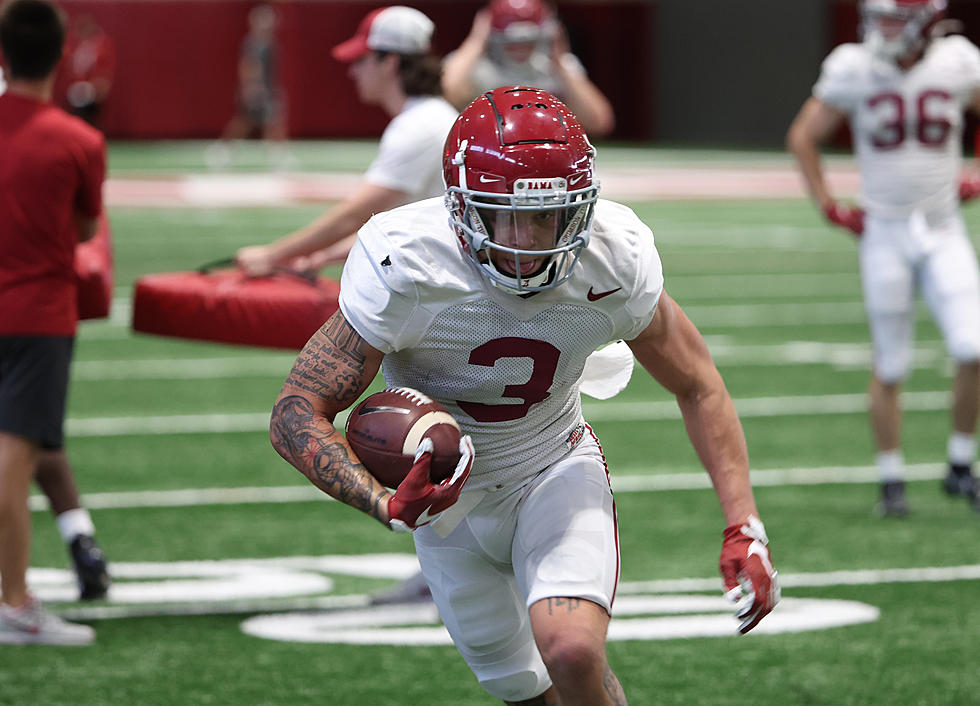 Nick Saban Says What Jermaine Burton Brings to the WR Room
Crimson Tide Photos / UA Athletics
It hasn't taken long for Georgia transfer Jermain Burton to feel right at home in Tuscaloosa. On Wednesday, Nick Saban spoke about what Burton brings to the Alabama wide receiver room.
"Jermaine Burton has done a really good job … little more experience, little more maturity really helps these guys learn and understand how to do things."
In two seasons at Georgia, Burton hauled in 53 passes for 901 yards and eight touchdowns. Burton has a knack for making spectacular catches because of his elite level body control and strong hands. He also gives Bryce Young another vertical threat.
Young talked earlier this week about his relationship with Burton.
"Jermaine's someone that I knew before he transferred here," Young said. "He was in California his last two years and we've been to the same camps, been in the same circles, so he was someone that I knew before college. He's someone who came in and really has a really professional mindset as far as early, right when he transferred in, he wanted to know the plays, wanted to know the system, meeting with Wiggs, meeting with and talking with me and asking me questions about how we did stuff, how our operation worked, certain routes, the specifics."
According to Young, he and Burton have been holding extra throwing sessions to build up their chemistry.
Last season, Young was able to create an instant connection with All-American wide receiver Jameson Williams, but this season he will have the benefit of going through a whole spring period with his new target.
The 2021 Heisman trophy winner put up prolific numbers in his first season as the starter in Tuscaloosa. Young set Alabama single-season records with 4,872 passing yards and 47 touchdowns, but the rising junior will be working with a new group at wide receiver with Williams, John Metchie and Slade Bolden off to the NFL.
"There's a lot of new guys, a lot of new pieces. But when you go to a school like this, that's what you expect," Young said. "There's always constant movement, people that are gonna step into new roles. But there's a lot of guys that, even though the public didn't get to see play as much last year, those are guys that I still see working and working day in and day out last year behind the scenes and guys that have done a lot of work to improve themselves and got an opportunity to take advantage of these circumstances."
Agiye Hall, Traeshon Holden, Ja'Corey Brooks and JoJo Earle are all expected to take on bigger roles in the Crimson Tide offense this season.
The Alabama faithful will have the opportunity first hand how this group has progressed during the annual A-Day Game on April 16.
Alabama Football's First 2022 Spring Practice
The Alabama Crimson Tide hit the practice field for the first time in 2022. It's Nick Saban's 16th season coaching at Alabama and the Tide are welcoming in several interesting newcomers.
Alabama Second Spring Practice 2022
The Alabama Crimson Tide hit the practice field on Monday, March 21 in Tuscaloosa, Alabama. It was Alabama's first practice after the conclusion of spring break.
Ocean Springs, Mississippi - Just Four Hours Away!