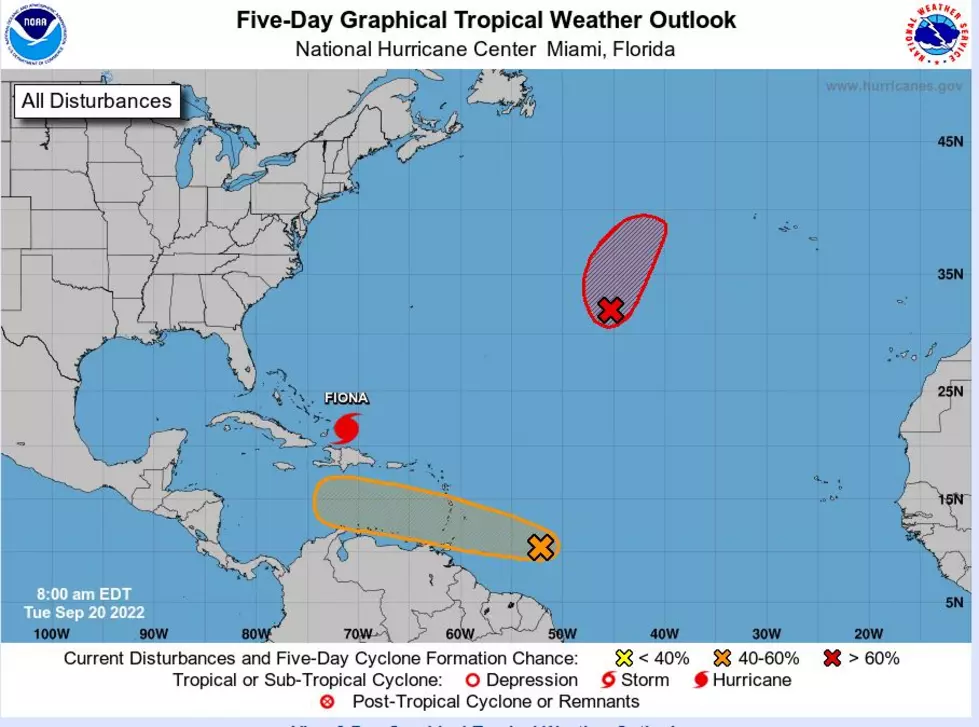 Models Suggest Possible Hurricane to Enter Gulf of Mexico Next Week
National Hurricane Center
As hurricane season continues to roll on, Fiona has developed into a category 3 hurricane. This is a major hurricane with winds of 115 miles per hour. Currently, it is projected to possibly reach category 4 as it continues to move north. This places Fiona close to the Grand Turk Island and will be near Bermuda by Thursday evening or early Friday.
Paying Close Attention to the Developments of a Tropical Wave
Hurricane watchers are concerned about a tropical wave located east of Windward Island. It is forecasted to potentially develop into a tropical depression by later this week or the weekend. Its current tracking moves the system into the eastern and central Caribbean sea.
James Spann, ABC 33/40, and Townsquare Media Tuscaloosa Chief Meteorologist said that this "tropical wave has a very real chance of entering the southern Gulf of Mexico in about 8-10 days, potentially as a significant system. It is important to note there is zero skill in forecasting the placement and intensity of a tropical cyclone more than 7 days in advance, but the pattern does suggest there could very well be a hurricane in the Gulf by the end of next week. If that happens, we just don't know the final destination. Simply something to watch for now, and we will continue to do just that."
Formation chance through 48 hours...low...10 percent.

Formation chance through 5 days...medium...50 percent.
(Source) For more from the National Hurricane Center, click here. Click here to follow the Facebook Page for James Spann.
2022 Atlantic Hurricane Season Names
Top Stories from the Tuscaloosa Thread (9/12 - 9/19)
17 of the Top Stories published by the Tuscaloosa Thread during the week of September 12th, 2022.
Tuscaloosa Restaurants and Businesses That Opened in 2022
New Year... New Tuscaloosa restaurants and businesses! 2022 welcomed in some great spots for shopping, good eats and business in the Druid City area.
Here are 18 restaurants and businesses that have opened since the start of 2022.