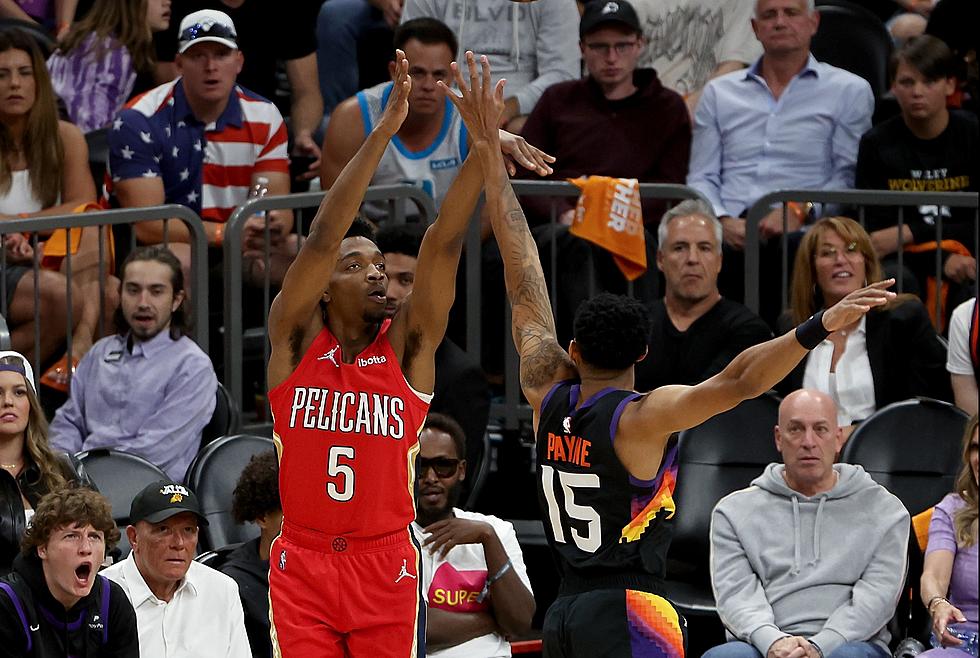 Herb Jones Gets First NBA Playoff Win
Getty Images
The New Orleans Pelicans defeated the Phoenix Suns on the road in Game 2 125-114 on Tuesday night to even the series 1-1.
Former Alabama player and Pelicans rookie starter Herb Jones gets his first NBA playoff win of his career, putting up 14 points on 5/8 made field goals and three assists in 41 minutes of play. Jones' 14 points was the third most by a New Orleans player in the game, only behind Brandon Ingram's 37 points and CJ McCollum's 23 points.
The Pelicans had to fight an uphill battle to win the game in Phoenix, as the Suns boast a 64-18 record, which isn't just the best regular season record for this season, but also over the past four seasons, as well as being their franchise record for the most wins in a season.
The Suns entered the game as nine and a half point favorites, and was led by their star player, Devin Booker, who dropped 31 first half points, before being taken out in the third quarter due to right hamstring tightness. Booker never returned to the game and the status of the All-Star going forward is uncertain.
New Orleans took advantage of the Suns missing their best player by outscoring them 34-22 in the third, and taking a seven point lead going into the fourth quarter. The Suns quickly bounced back and took a 98-97 lead with 7:47 left, before they proceeded to get outscored 28-16 to end the game.
After starting the season 1-12, the Pelicans ended their regular season with a 36-46 record and ninth in the Western Conference. They went on to win two straight games in the NBA Play-In Tournament against the Spurs and Clippers to clinch the eighth seed in the playoffs.
New Orleans struggled in their first playoff game against the Suns last Sunday, where they found themselves down by 19 points at halftime before ultimately losing the game 110-99. The game on Tuesday went much different as they never fell behind by double digits, and was even able to take on Booker's hot first half and only go in the locker at halftime down by five.
The Pelicans travel back home to Smoothie King Center in New Orleans, Louisiana to take on the Suns in Game 3 of the first round series on Friday, April 22 at 8:30 p.m. CT. The game will be aired on ESPN.
Alabama Basketball Players Who've Played in the NBA
Alabama Basketball All-Time Scoring Leaders