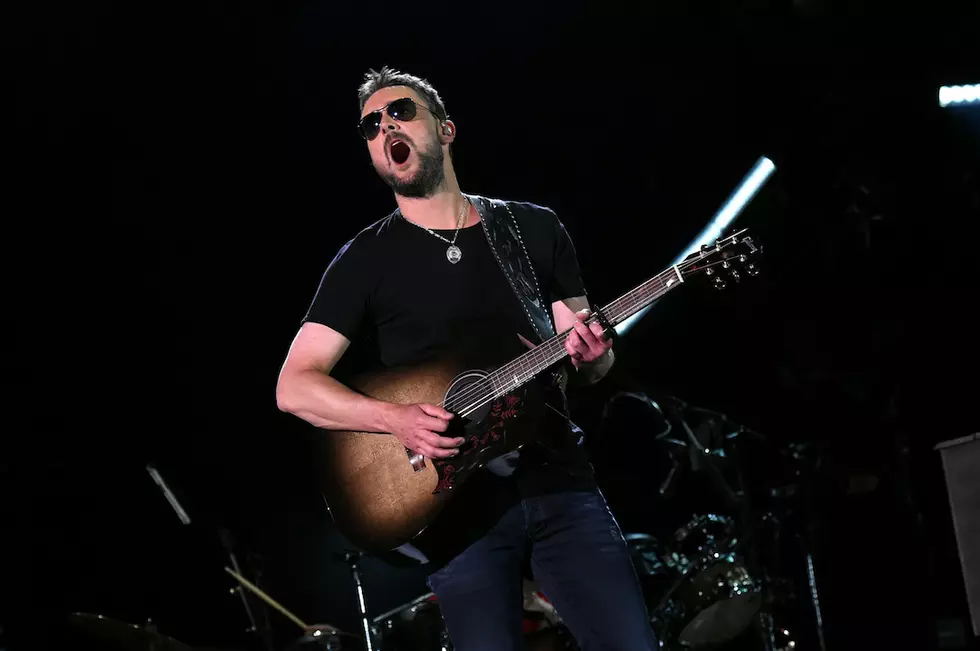 Eric Church Chastises the NRA: 'You Shouldn't Have That Kind of Power Over Elected Officials'
Rick Diamond, Getty Images
Eric Church has always been -- and remains -- a supporter of the Second Amendment, but in a new interview with Rolling Stone, the country superstar says the shooting that took place at the 2017 Route 91 Harvest Festival in Las Vegas, Nev., affected his stance on the matter "a little."
On Oct. 1, 2017 -- just two nights after Church headlined Route 91 on Friday (Sept. 29) -- a gunman opened fire on the festival grounds as Jason Aldean performed his headlining set. Fifty-eight people were killed, and more than 800 more were injured.
"It's selfish of me," Church tells Rolling Stone, "but my first thought was, 'I hope it's not our fans.' We had a lot of fans there. We even promoted online travel options to make it easier for people to come. I felt like the bait: People come to see you play, then all of a sudden they die? That was not an emotion that I was prepared to deal with."
Though Church is a gun owner himself, he argues that automatic and semi-automatic weapons fall outside the parameters of what the Second Amendment's freedoms allow.
"[The Second Amendment]'s in the Constitution, it's people's right, and I don't believe it's negotiable," he explains. "But nobody should have that many guns and that much ammunition and we don't know about it. Nobody should have 21 AKs and 10,000 rounds of ammunition and we don't know who they are. Something's gotta be done so that a person can't have an armory and pin down a Las Vegas SWAT team for six minutes. That's f--ked up."
Remembering the Route 91 Harvest Festival Shooting Victims
Church says that while he believes some shootings are random tragedies, the massacre in Las Vegas could have been prevented. In the interview with Rolling Stone, he takes aim at the National Rifle Association (NRA) for its involvement in keeping conversations about gun laws from happening.
"I blame the lobbyists. And the biggest in the gun world is the NRA ... I don't care who you are -- you shouldn't have that kind of power over elected officials," Church says. He adds that, although he supports gun ownership, he has never been a member of the organization.
Gun control is a touchy issue in the country music world, even in the wake of the Las Vegas shooting. Aldean, who was onstage when the shooting broke out, has taken a moderate approach; others, such as Maren Morris, responded to the shooting with a strong pro-gun control stance. Although Church says he understands that many fans will disagree with him on the issue, he cares more about standing up for his beliefs than he does about what people think.
"Right's right and wrong's wrong," he says. "I don't understand why we have to fear a group [like the NRA]. It's asinine. Why can't we come together and solve one part of this? Start with the bump stocks and gun shows. Shut a couple of these down. I do think that will matter a little bit. I think it will save some lives."
Country Music's Most Political Artists