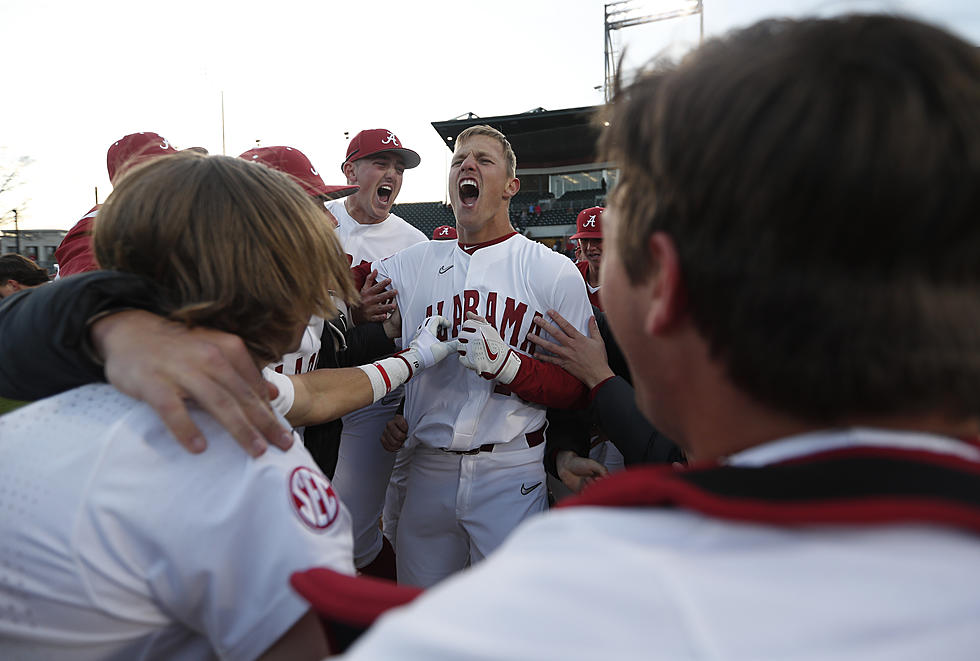 Diodati and the Alabama Lineup Come Up Clutch in the Ninth
Crimson Tide Photos / UA Athletics
The Alabama Crimson Tide seemed down and out at the plate for eight straight innings today against the Xavier Musketeers. Until suddenly, it didn't.
At what almost felt like the flip of a switch, the Alabama hitters showed up just when they needed to down 4-1 going into the bottom of the ninth. Alabama had just three hits through its first eight at-bats, and its only run came off a solo home run from catcher Dominic Tamez in the bottom of the fourth.
After another homer to left by Tamez, Alabama third baseman Zane Denton and outfielder William Hamiter went back-to-back with doubles.
Then along came designated hitter Owen Diodati. Zero outs, one on, a chance to win the game. And he delivered.
Diodati hit the first pitch he saw in the ninth 411. ft. over the visitor's bullpen and into the Coleman parking lot to bring the winning run home and secure Alabama victory in the season opener.
"I talked to our hitting coach, Coach Morris, before the at-bat, and he kind of just preached something that to me I probably hadn't done as well as I should the whole game, which is just take a nice easy swing, simplify, don't try to do too much," Diodati said of how he approached the final at-bat in the game with all that was on the line.
The Tide's ninth-inning efforts were aided by three innings of scoreless relief pitching by Jacob McNairy and Brock Guffey. Guffey pitched two of those innings, giving up zero hits, zero runs, zero walks, and striking out three batters.
Starter Garrett McMillan had a rough time getting into the groove after giving up a first pitch home run to Xavier first baseman Luke Franzoni, which is what put the Tide behind in this game. He ended up allowing four hits, four runs, and two walks in six innings pitched, but struck out five Xavier hitters.
"Garrett certainly pitched good enough for us to win. He probably wasn't as sharp as he has been or he will be, I mean you've got a kid that grew up in Tuscaloosa starting opening day for Alabama," said coach Brad Bohannon of how he felt about McMillan's performance, "It was probably around the 40 or 50 pitch mark before he really got a feel for his changeup, which is his best pitch."
It may not have looked through eight innings like the Crimson Tide had a chance to come back at the plate, with flyouts making up a majority of the offense's day. But, Alabama's baseball team, behind a leadoff homer from their transfer catcher completed the come back in walk-off fashion.
Hopefully, Alabama can carry that energy into tomorrow's game two against Xavier at 2 p.m. at Sewell Thomas Stadium. You can listen live on Tide1009.com/listen-live to not miss a second of the Saturday action.
Alabama Crimson Tide Baseball Strikeouts Leaderboard
Look back on Alabama's top 10 strikeout artists in program history.
Alabama Baseball's Career Batting Average Leaders
Alabama's Top 10 Athletes - Fall 2021
The Alabama Crimson Tide boasts an extremely successful athletic department with amazing athletes playing multiple sports. The top 10 athletes include national champions, an Olympic athlete, SEC champions and various record holders.