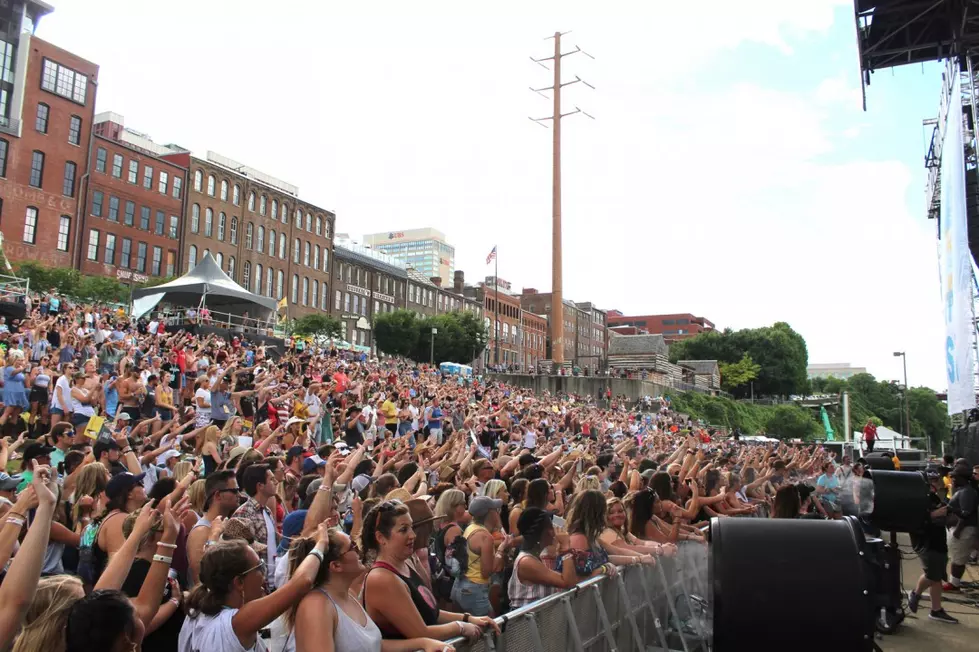 CMA Fest Bans Confederate Flags and Imagery on Festival Grounds
Mike Thiel for Taste of Country
For the first time in CMA Fest history, country fans will no longer be allowed to bring Confederate flags or imagery onto festival grounds.
The four-day event, which begins this Thursday, June 9, in downtown Nashville, has added "Confederate flag imagery of any kind" to this year's list of prohibited items. According to the festival's website, fans displaying any Confederate symbols or in possession of any "other items deemed disruptive, dangerous ... or offensive" will be denied entry into the event.
"This year's CMA Fest is our first major fan-facing event in nearly three years. We have always had policies in place that protect the safety of our fans and ban discrimination, but we felt it was important to further refine our language to explicitly outline what will and will not be tolerated," the Country Music Association said in a statement provided to the Tennessean.
The statement goes on to explain that the change was included in the event policy when it was published in early April, and states, "any behavior that causes one of our attendees to fear for their personal safety will not be tolerated, and that is inclusive of any displays of the Confederate flag."
This new rule is highlighted just weeks after Stagecoach Festival updated their rules and regulations just a few days before the event began on April 29. According to Desert Sun, the festival's website was updated to state that "no divisive symbols, including, without limitation, Confederate flags and racially disparaging or other inappropriate imagery/public displays" would be allowed on the festival ground or overnight campsites.
These changes come as an increasing number of country artists have chosen to move away from using Confederate symbolism. In the past, David Allan Coe, Alabama and Hank Williams Jr. were among the performers who used the flag as stage decor, album art and imagery on their own clothing and merchandise. As critical discussion around racial inequality within the genre continues to steadily build, these decisions mark an important pivot towards change.
During a discussion with Maren Morris and journalist Ann Powers during Country Radio Seminar 2021, Luke Combs publicly apologized for using Confederate flag imagery in press photos, which he used during the early years of his country music career. He noted that there was "no excuse for those images," and he "apologize[s] for being associated with that."
"I am now aware how painful that image can be to someone else, and no matter what I thought at the time," Combs continued. "I would never want to be associated with something that brings so much hurt to someone else. I want people to feel accepted; I want people to feel welcomed by country music and by our community."
"... Hate is not a part of my core values," he said at the time.
During the panel, Morris also discussed her own experience growing up in the South, how often she saw the Confederate flag and related imagery within that culture, and the painful affect those symbols can have on the Black community.
"I see the Confederate flags in the parking lots, [and] I don't want to play those festivals anymore," she said. "I feel like the most powerful thing as artists in our position right now is to make those demands ... That's one of the things we can do, is say, 'Nope, I'm not doing this, get rid of them.'"
2022 Country Music Festivals Guide
Enjoy an updated list of country music's best festivals, across America, Canada, Great Britain and more. This list of 2022 country fests will be updated to reflect postponements, cancelations or lineup adjustments.