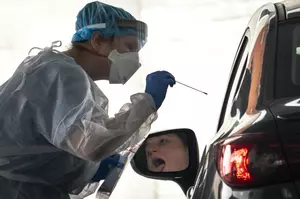 City Leaders Give Latest COVID-19 Update
Getty Images
City leaders met virtually to discuss the latest numbers, policies and concerns regarding COVID-19 in Tuscaloosa County Friday.
Andy North, VP of Marketing and Communication for the DCH Health System, opened the conversation with an update from the DCH Regional Medical Center.
North showed trends regarding COVID-19 inpatients in DCH's three hospitals. Facilities saw an increase in inpatient numbers after July 4, despite numbers trending down during the month of June.
As of this morning, there are 101 inpatients and 30 in ICU, with 11 on ventilators in the DCH System.
"Recently this past week we've been running short on supplies and vendors have been running short as well," North said. "We're working on alternatives to this right now."
The data determined that about 10-12% of people who are tested are positive.
"We are at about 4% for people who have tested positive and have passed away," North said. The data also shows that over the past month or so, people ages 25-49 almost doubled their positive cases.
But, the data is not all bleak. There is a much higher rate of positively-tested patients who required no inpatient care – about 70%.
DCH administrators are continuously encouraging members of the community to keep wearing masks. Given the post-Independence Day COVID-19 spike, there will not be any changes to DCH's strict no-visitors policy in its facilities.
"With the increasing numbers, we still feel that it would be unsafe to loosen the visitation policies in the hospital, but we want to change that," North said. "We're hoping that someday soon we'll feel safe enough to lighten the visitation policy a little bit."
Employers can call 205-333-4300 to request to have individual employees tested. North said employers can expect to wait about 48-72 hours for those test results.
North added that while the health system currently has 72 normal ICU beds, officials converted others to be used for ICU capabilities. In summary, the hospitals are doing OK, but North's chief concerns are not issues of space.
"For us, it's a matter of staffing," North said. "We're considering the mental aspect of caring for sick patients and the physical effort it takes to care for people and not be exposed. It's also really hard to find travel nurses who can come work. So far we've been able to manage it but it's been a stressful situation for the staff."
The presentation shifted gears to officials in City Hall, who discussed the Small Business Relief Fund, from 300 local businesses have received awards.
City staff said of the $1 million donated to the fund as part of Mayor Walt Maddox's Restart Tuscaloosa plan, $83,000 remains. Anyone applying for that assistance must have a business owner within Tuscaloosa city limits. The Chamber of Commerce of West Alabama is still taking private donations, though those dollars are much more limited. For more information on the Small Business Relief Fund, click here.
One of the most hotly debated topics right now is the statewide and citywide mask ordinance, For the most part, the city's ordinance is almost completely in line with what Gov. Kay Ivey mandated statewide in mid-July, with the exception that the city was requiring signage to be posted in businesses while the statewide ordinance made signage a recommendation, but not a requirement. Ivey's "Safer at Home" order is set to expire on July 31, so all the policies therein will be assessed and either extended or revised by that time.
"Should the statewide mask ordinance expire on July 31, our ordinance will stay in effect until August 5 and be reevaluated by the city council," said Randy Smith, chief of Tuscaloosa Fire Rescue.
Smith added that law enforcement officers are not descending on individuals who are not in compliance with the mask order, despite a large number of calls to 311 from individuals who are reporting noncompliance. He said city police officers are educating staff at businesses that are reported for noncompliance, and individuals have been left alone so far.
City leaders will continue to provide information as they receive it. Stay tuned to this site and this station for updates as they become available.