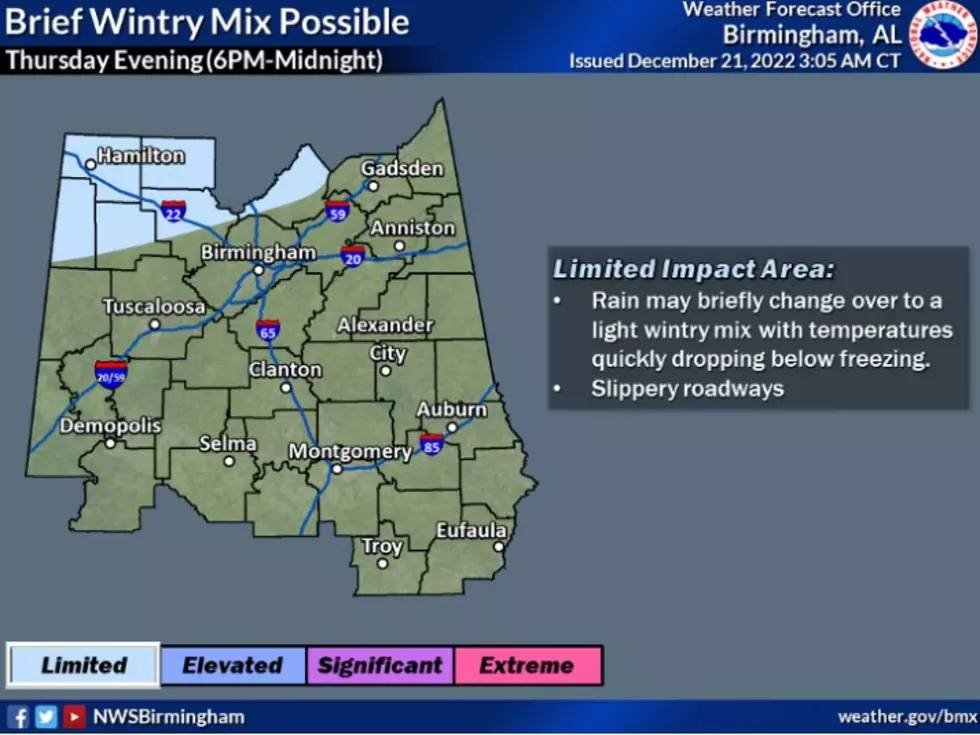 Brief Wintry Mix Possible for Portions of Alabama
National Weather Service
Townsquare Media has been closely monitoring an arctic airmass that will arrive in Alabama soon. Our main concern is the brutal temperatures associated with this weather system.
This arctic blast is still scheduled to arrive Thursday night and we could experience a multi-day period of extremely cold conditions. This means some areas could experience over 72 consecutive hours of sub-freezing temperatures.
The National Weather Service in Birmingham said they have added a "limited Impact Area for slippery road conditions due to a brief wintry mix possible Thursday Evening from 6pm to midnight across the far northern and northwest counties."
Current Watches and Warnings
> Be Prepared for Dangerously Cold Wind Chill Values in Alabama <
> Hard Freeze Warning Issued Ahead of Arctic Blast Alabama Arrival <
James Spann, ABC 33/40, and Townsquare Media Tuscaloosa Chief Meteorologist said that "clouds thicken tonight and tomorrow ahead of an Arctic front; some light rain is possible ahead of the front during the afternoon and evening hours, but amounts should be light (generally under one-tenth of an inch)."
Insight from James Spann on the Brutal Cold Conditions
The bitterly cold Arctic air will move into the northwest corner of the state around 10:00 tomorrow night; temperatures fall rapidly after midnight, reaching the 5-15 degree range by daybreak Friday (for the northern half of the state).

Light snow showers and snow flurries are likely in the cold air tomorrow night and Friday morning. Deeper moisture will be exiting the state rapidly as the cold air arrives; no meaningful accumulation is expected. But, might be a few spots where the grass gets white, especially across higher terrain.

Strong northwest winds of 15-30 mph will bring the wind chill index down into the -10 to -15 degree range early Friday over North Alabama. The wind chill index will remain below zero through much of the day.

Those strong winds will dry the roads quickly, and widespread travel problems are not expected. However, if there are any spots with standing water, it will turn to ice quickly, so watch for icy spots if you are driving Friday!
The National Weather Service in Birmingham said that "this stretch of cold weather could prove dangerous or life-threatening for people and pets without adequate shelter and warmth, and could also jeopardize exposed pipes."
The good news is once we get to Monday, December 26, you will notice that temperatures will warm up each day next week. The temperature grid looks like a staircase.
(Source) Click here to follow the Facebook Page for James Spann. For more from the National Weather Service Birmingham, click here.
Winter Weather Emergency Supply Kit for Vehicles
Understanding Various Types of Winter Weather Alerts in Alabama
Tips to Help Keep Alabama's Furry Friends Safe this Winter