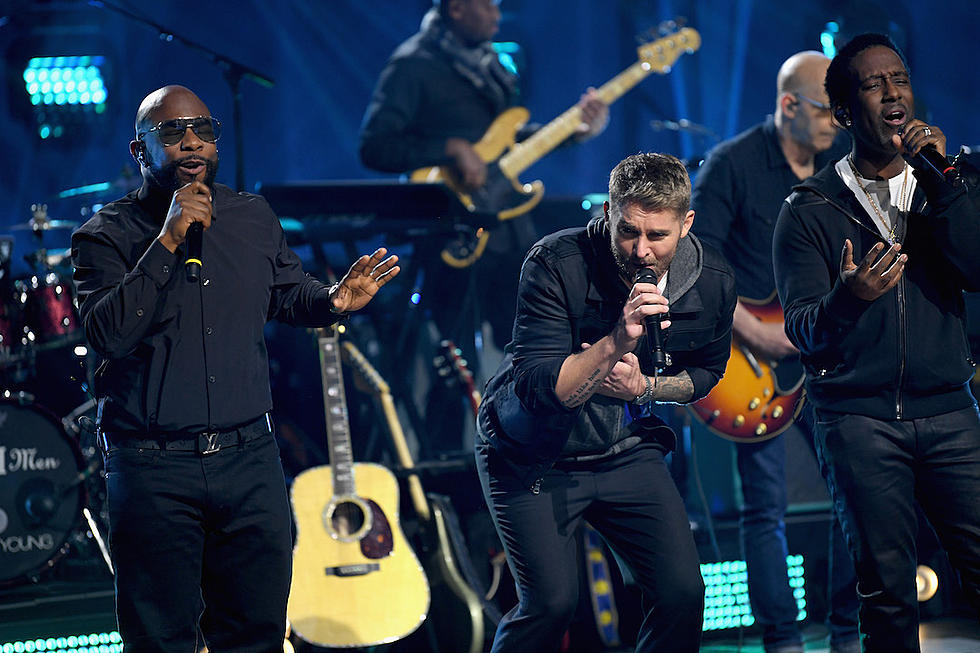 Brett Young and Boyz II Men Close CMT 'Crossroads' Set With 'End of the Road' [WATCH]
Jason Kempin, Getty Images
At the end of their CMT Crossroads set, Brett Young and '90s R&B stars Boyz II Men closed out the evening with a classic, performing the group's anthemic hit, "End of the Road." Press play above to watch a clip of the rendition, which was taped on Feb. 28.
Originally released as a single in 1992, "End of the Road" became an international success for Boyz II Men, spending what was then a record-breaking 13 weeks at the No. 1 spot on the US Billboard Hot 100 chart.
During their CMT Crossroads performance, the singers took turns taking the lead, with Young stepping into the spotlight in the second verse of the song. Each solo highlighted the vocal prowess of the individual performers, with Young chiming in with plenty of soulful vocal runs of his own. Finally, in the last chorus, the audience took center stage in a massive singalong, fans swaying and singing along with the iconic break-up slow jam.
The hour-long show, comprised of both acts collaborating for live versions of both their hits, was filmed at the Grand Ole Opry's Studio A in Nashville, Tenn. Viewers have already gotten a chance to see Boyz II Men and Young's rendition of "Motownphilly," which was Boyz II Men's debut single, released back in 1991.
The performance is the latest in a list of many cross-genre collaborations for CMT Crossroads, which seeks to bring together two artists of different genres to form an unlikely musical pairing. While Young's musical style falls into the country format, he has long counted soul artists -- even Boyz II Men themselves -- among his influences. Young and Boyz II Men's CMT Crosswords episode will premiere on Wednesday (March 27) at 10PM ET.
See More From Brett Young + Boyz II Men's Crossroads Episode