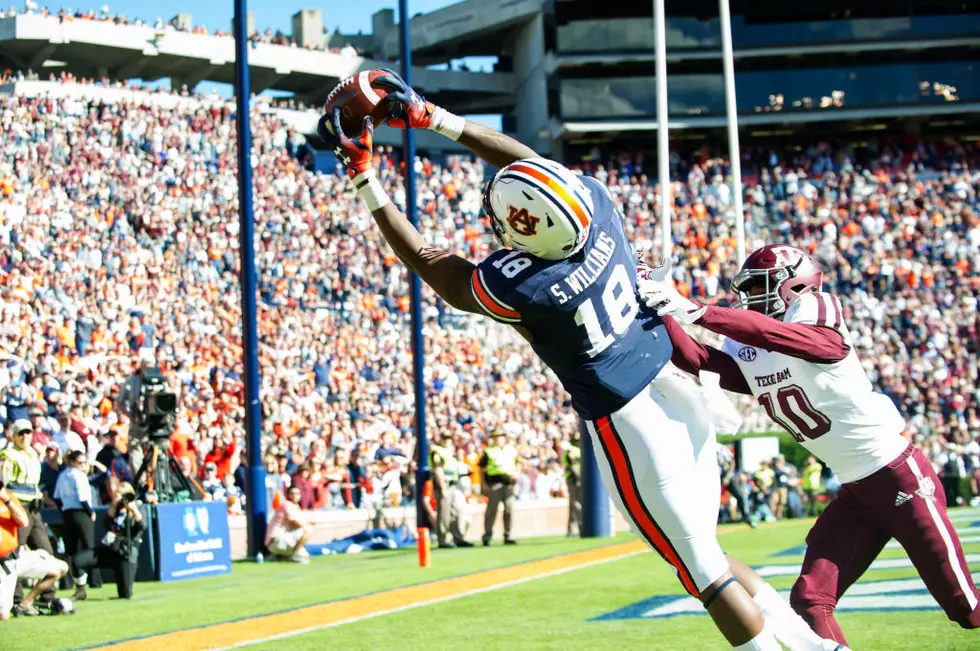 Auburn WR Seth Williams Shows Out Against Kentucky
This week's college football matchups were exciting. Especially with No. 2 Alabama starting its season off with a win over the Missouri Tigers. Also, the  No. 8 Auburn Tigers had its first win of the season against the No. 23 Kentucky Wildcats and one person in particular seemed to be running the show.
Auburn's four-star junior WR, Seth Williams certainly made himself known during Saturday's game versus the Wildcats. Williams a Tuscaloosa area native and graduate of Paul Bryant High School, had six catches and scored two touchdowns with 112 yards receiving.
Many people see Seth Williams as one of the top receivers in college football right now, and after seeing his performance against Kentucky. He is very good at running after the catch and is outstanding when it comes to 50/50 passes.  Both of his touchdowns came from a 50/50 ball thrown by Nix and he managed to catch both of them over Kentucky defenders. Seth William's height is also an important factor to his performance, standing at 6-foot-3 211lbs. Most college level receivers are around 5'8", making Williams stand out from the rest.
Seth Williams has gained attention from current NY Giants WR, Darius Slayton. Slayton tweeted, "Seth the best 50/50 ball WR in CFB, if you want to argue I got time." Auburn quarterback, Bo Nix even said in a post-game interview, "Yeah Seth does that all the time, just throw it up and he will get it."
Just as a freshman, Williams had five touchdowns with 534 yards. He has been a great asset for the Auburn offense since 2018 and he has undoubtedly proved that throughout his career at Auburn. He will be a very desirable player for some NFL teams in the 2022 draft.
Enter your number to get our free mobile app