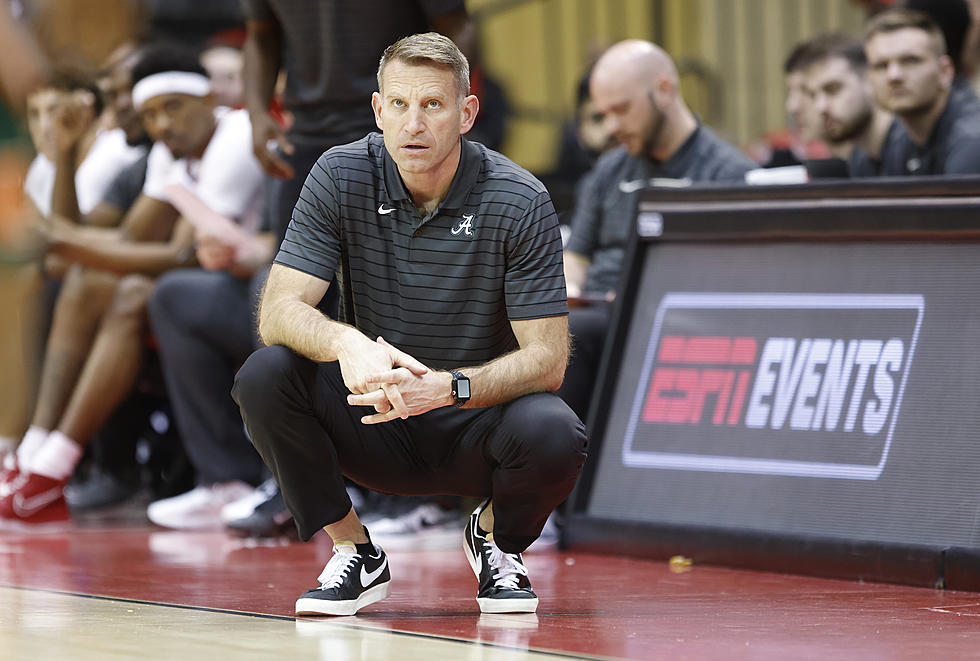 Alabama Men's Basketball Unveil The 2022-2023 Schedule
Robert Sutton/CrimsonTidePhotos
On Tuesday morning, Alabama Men's Basketball announced their entire 2022-2023 schedule. Alabama will play up to 18 teams who participated in last year's March Madness. They will also take on 7 conference champions.
To tip-off the season the Tide is set to play Longwood and Liberty at home. Then they will travel down to Mobile, AL to compete against the South Alabama Jaguars. The Tide then returns to Tuscaloosa for a Nov. 17 matchup against Jacksonsonville St.
On Nov. 24, Alabama will take a trip to Portland to take part in the Phil Knight Invitational. In the Tide's first matchup of the tournament, they face Tom Izzo and crew as they take on the Michigan State Spartans. No matter the outcome of Alabama's game against the Spartans, they will take on either UCONN or Oregon in game 2. Game 3 is TBD.
Following the Phil Knight Invitational, the Tide returns to Coleman Coliseum to challenge the South Dakota St. Jackrabbits. After the Tide takes on South Dakota St, they will head down to Houston, TX to battle the Houston Cougars. The Cougars will have its claws out, as they seek revenge for last year's loss to Bama in an 83-82 thriller. The Tide will return to the Capstone to finish up non-conference play at home, including a stand off against Memphis, a dogfight against Gonzaga (This game will be held in Birmingham), and the taming of the Jackson State Tigers.
The Tide launches SEC play on Dec. 28 against Mississippi State in StarkVegas. They tip-off SEC at home against Ole Miss on Jan. 3. The entire SEC schedule is shown below:
Dec. 28 at Mississippi State
Jan. 3 Ole Miss
Jan. 7 Kentucky
Jan. 11 at Arkansas
Jan. 14 LSU
Jan. 17 at Vanderbilt
Jan. 21 at Missouri
Jan. 25 Mississippi State
Jan 28 at Oklahoma (Big 12/SEC challenge)
Jan. 31 Vanderbilt
Feb. 4 at LSU
Feb. 8 Florida
Feb. 11 at Auburn
Feb 15 at Tennessee
Feb. 18 Georgia
Feb. 22 at South Carolina
Feb. 25 Arkansas
March 1 Auburn
March 4 at Texas A&M
After a frustrating 2021-2022 season the Alabama Crimson Tide looks to bounce back as one of the top tier teams in college basketball this year, while dealing with a tough schedule filled with teams showcasing some of the best talent in the nation.
Here's Why Every SEC Team is Inferior to Alabama
90s Classic Hip Hop Joints