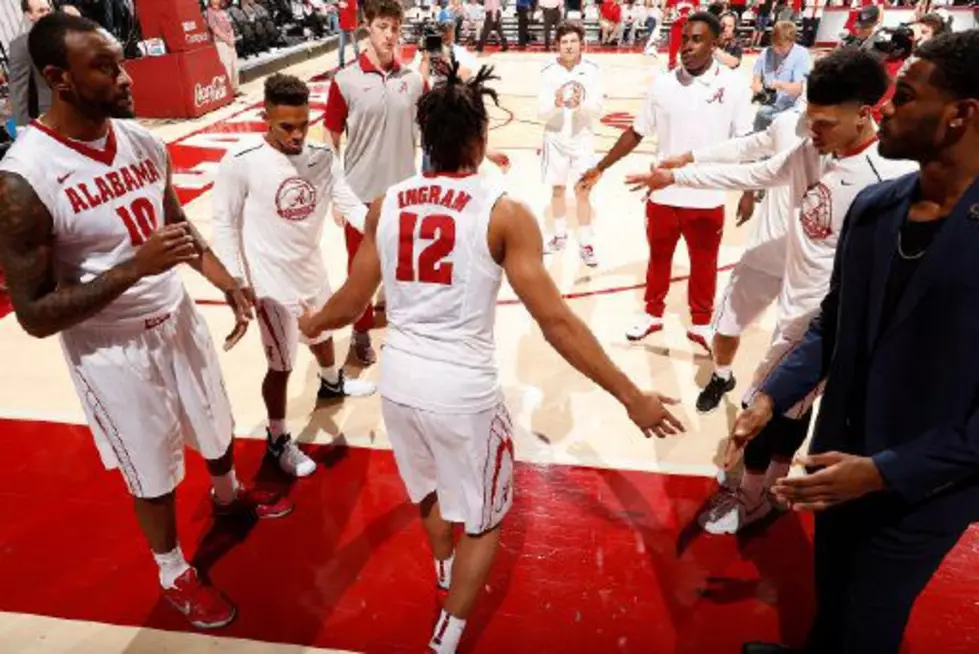 Alabama Men's Basketball Announces 2017-18 Non-Conference Slate
Photo courtesy of Alabama Athletics
The Alabama men's basketball team finalized its 2017-18 non-conference schedule, head coach Avery Johnson announced Friday. This year's non-league slate will be highlighted by games against perennial powers Arizona, Oklahoma, Texas and others in what will likely be considered one of the stronger non-conference schedules in the nation.
The Tide's challenging non-conference slate includes six teams that reached last year's NCAA Tournamenet or NIT while eight of the Tide's 13 non-conference opponents finished in the top three of their respective league a year ago, including three that won a championship. In all, seven of the Tide's 13 non-league games will be played under the arched roof of Coleman Coliseum, along with challenging road and neutral site games against the likes of Arizona, Memphis and a pair of highly touted opponents at the Barclays Center Classic.
In addition to playing seven true home contests, the Tide will also play two games throughout the state of Alabama, which includes taking on Mercer in the Rocket City Classic at Huntsville's Von Braun Center on Dec. 19, followed by a matchup against Texas in the Vulcan Classic at Birmingham's Legacy Arena on Dec. 22.
The Texas contest will mark the third consecutive year the Crimson Tide will play an opponent in Birmingham, while this year's game in Huntsville will be the second straight year of the Rocket City Classic.
Alabama opens the 2016-17 campaign on Nov. 10 when it travels to Annapolis, Md., to take on the Memphis Tigers as part of the fourth annual Veterans Classic, played at the U.S Naval Academy. The Tide and Tigers will be the opening game, followed by Navy hosting Pittsburgh in the nightcap.
The Crimson Tide will then return home to begin a three-game homestand when it welcomes Lipscomb to Coleman Coliseum on Nov. 14. Alabama will next play host to Alabama A&M on Nov. 17, before closing out the stretch with a home contest against defending Sun Belt regular-season champions UT Arlington on Nov. 21.
Following the home contests, the Tide will travel to Brooklyn, N.Y., to participate in the Barclays Center Classic where it will play two games over Thanksgiving weekend (Nov. 23-25). Joining Alabama at the event will be BYU, Minnesota and UMass. Matchups will be determined at a later time.
Alabama will then begin another homestand following its trip to New York when it welcomes three teams who are expected to contend for conference titles during the upcoming season. First, UA will host Conference USA contender Louisiana Tech, who finished second in the league last season, on Nov. 29. Following that contest, AAC front-runner UCF will come to town on Dec. 3, followed by A-10 perennial power Rhode Island on Dec. 6, with all three games taking place in Coleman Coliseum.
The Tide will then begin a stretch of three consecutive games played away from Tuscaloosa, although two will be played in the state of Alabama. First, UA will travel to Tucson on Dec. 9 to take on the University of Arizona, who are picked by many as a potential Final Four team this season, for its first true road game of the year. Following a break for exams, the Tide will head to Huntsville for the Rocket City Classic against the Mercer Bears on Dec. 19, followed by the Vulcan Classic against Texas at Legacy Arena on Dec. 22 in Birmingham.
The final non-conference game of the regular season will take place on Jan. 27 when the Tide hosts the Oklahoma Sooners at Coleman Coliseum in the Big 12/SEC Challenge. It will mark the fifth year of the annual event, but only the second time Alabama has been a part of the 10-team event.
The Crimson Tide will play an exhibition game prior to the start of the regular season, but the opponent and date of that game are still being finalized.
18 Southeastern Conference game dates, as well as all start times and television carriers, will be revealed at a later date. The league office announced the Tide's 2018 league opponents in early June.
The University of Alabama Athletics TIDE PRIDE/ Ticket Office is now accepting season ticket deposits for the 2017-18 men's basketball campaign. Season tickets start as low as $10 per game. For more information and to reserve seats, click here or call (205) 348-BAMA.
Date                        Opponent                                               Location
Nov. 10                   vs. Memphis@                                         Annapolis, Md.
Nov. 14                   LIPSCOMB                                          TUSCALOOSA
Nov. 17                   ALABAMA A&M**                            TUSCALOOSA
Nov. 21                   UT ARLINGTON**                            TUSCALOOSA
Nov. 23-25             at Barclays Center Classic                       Brooklyn, N.Y.
                                Participating teams: Alabama, BYU, Minnesota, UMass
Nov. 29                   LOUISIANA TECH                           TUSCALOOSA
Dec. 3                     UCF                                                       TUSCALOOSA
Dec. 6                     RHODE ISLAND                               TUSCALOOSA
Dec. 9                     at Arizona                                               Tucson, Ariz.
Dec. 19                   vs. Mercer%                                            Huntsville, Ala.
Dec. 22                   TEXAS#                                         BIRMINGHAM
Jan. 27                     OKLAHOMA^                                    TUSCALOOSA
** Games a part of Barclays Center Classic (Tuscaloosa, Ala.)
@ Veterans Classic (Annapolis, Md.)
% Rocket City Classic (Huntsville, Ala.)
# Vulcan Classic (Birmingham, Ala.)