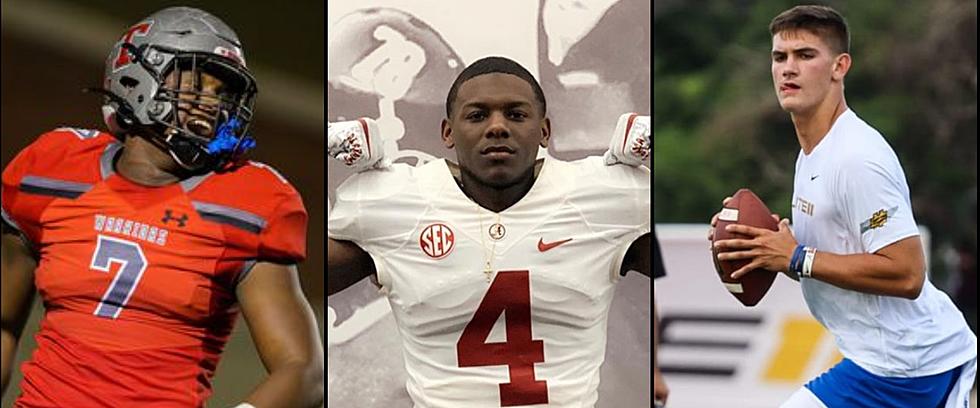 2022 Bama Recruiting Woes May Be In Rearview
Photos courtesy of: AL.com (Alexander) and SI.com (Henderson and Simpson).
Earlier in the year, there were concerns amongst the Alabama faithful about the slow-developing 2022 Alabama recruiting class. However, in the last 30 days alone, Alabama Football has managed to get a commitment from five players in 2022 ESPN's Top 300 list.
Despite their 2022 class being ranked outside the top 10 less than a month ago, Alabama now finds itself No. 6 overall and No. 2 in the SEC behind LSU, according to 247Sports.com.
Ohio State ranks No. 1 in recruiting nationally, but is now tied with Alabama in numer of 5-star commits (3) after the announcement from Jeremiah Alexander earlier this month.
5-Star Ty Simpson is a 6-foot-2 athletic quarterback who is known for extending plays and making clucth throws outside of the pocket. He committed to Saban and Alabama in February of 2021 and was the first 5-star for their 2022 recruiting class.
RB Emmanuel Henderson is a native of Hartford, Alabama and, in March of 2021, was the second 5-star to commit to the Bama 2022 class. According to 247Sports composite rankings, Henderson is the No. 1 recruit at the the running back position in the country.
Jeremiah Alexander, the most recent of the three 5-star commits to the 2022 class, is a 6-foot-2, 235 lbs edge rusher from Thopmson High School in Alabaster, Alabama. He's listed on 247Sports.com as the No. 1 prospect at his position in the country as well as the No. 1 player in the state.
Looking ahead, Bama fans should still anticipate the commitment of a few key players, including 5-star defensive lineman Walter Nolan, the No. 3 ranked recruit in the country, and 5-star offensive tackle Zach Rice who is listed as the No. 1 OT in the class.
For more content from J.R. and all the talented interns at Tide 100.9, make sure to tune in for Tide Tonight - Monday, Wednesday, and Friday - at 6:00 pm. You can hear all of our radio content on the new Tide 100.9 app.
The 2021 Alabama Football Schedule in Photos
Crimson Tide's NFL Draft First-Rounders During Saban's Tenure
Take a look back on the Crimson Tide's first round selections under head coach Nick Saban.
8 Ways To Have A Great Work Week