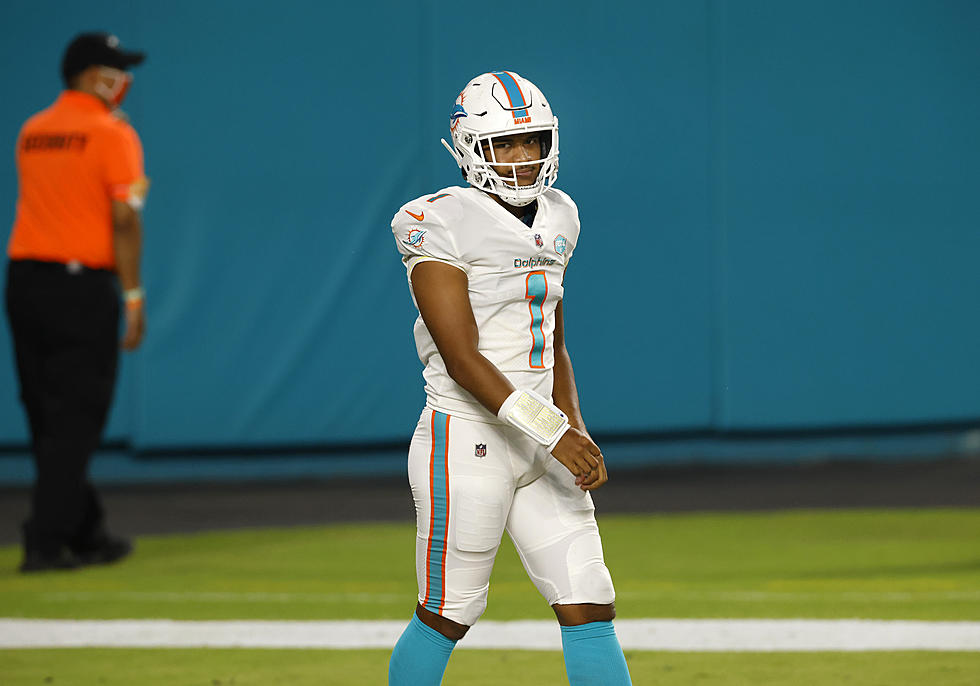 Tua Tagovailoa Carted to Locker Room With Bruised Rib
Getty Images
Former Alabama quarterback and now Miami Dolphins starter Tua Tagovailoa left their game against the Buffalo Bills early in the first quarter with an injury to one of his ribs.
Tagovailoa took a hard hit while throwing a pass less than 5 minutes into the first quarter. Trainers were brought out as he laid on the ground holding his side, but eventually he was helped off the field and to the sideline. It was there he was evaluated and the trainers decided they needed to cart him to the locker room for further evaluation.
The official update on the injury is that he has a bruised rib and X-rays have come back negative which means nothing is broken. He will have an MRI tomorrow that will tell medical staff more about his cartilage, etc. and give the team a better timetable of when he will be able to return to play.
Tagovailoa had dropped back to deliver a pass on fourth down and was hit by Buffalo's defensive end A.J. Epensa as he threw an incomplete pass. He laid on the turf momentarily grabbing his side, but attempted to walk off of his own power before he fell over in pain once again and the trainers had to come help him off the field.
The hit, which can be seen below, was the third hit that Tagovailoa had taken in eight plays to start the game.
Before coming out of the game, Tagovailoa had only completed one out of his four pass attempts for 13 yards in two drives. Backup QB Jacoby Brissett took over for the Dolphins on the next drive.
For now, when Tagovailoa will be available to return is still unknown, but the MRI taking place tomorrow should give everyone a better idea of the severity of his injury. Bruised ribs have historically meant a multiweek absence, so it could be a while before we see Tagovailoa lining up behind the O-line again, but the good news is he should be back just in time for the final weeks of the NFL season.
Here's Why Every SEC Team is Inferior to Alabama
How Do Fans Sing 'Dixieland Delight' in Tuscaloosa, Alabama?
Alabama football fans add
a few extra lyrics
to 'Dixieland Delight' when it's played on the speakers in Bryant-Denny in Tuscaloosa, Alabama. What are they singing? And Why?