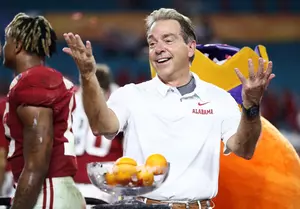 The Life and Legacy of Nick Saban…on the Big Screen
Getty Images
There are few things fans of the Crimson Tide love more than a national championship, and one of them is Nick Saban.
He may be one of the greatest football coaches in Southeastern Conference (SEC) history, but in recent years the renaissance man has added quite a bit of content to his acting portfolio. From Little Debbie snacks to Aflac Insurance and even a cameo in The Blind Side, Saban has certainly made his presence known on the big screen.
As a fairly new member of Alabama's coaching staff in the mid-2000s, Saban made the risky decision to make a cameo appearance as LSU's football coach who was recruiting the highly-coveted offensive tackle Michael Oher in "The Blind Side" (2009).
Saban was hesitant to take the role at first, worried he would upset his loyal Tide fans playing their enemy coach. After a fan asked about his role in the Oscar-winning sports film during a segment of his radio show "Hey Coach" in 2017, Saban said, "I refused and Fred Smith, who was a pretty powerful guy with FedEx and all that, produced the movie and talked me into doing it. I told him I'd do it, but I'm not going to wear LSU clothes."
Out of respect to his Alabama fans, Saban kept his promise and wore a neutral-colored suit during his scene in the movie, without a single LSU logo in sight.
Sports fans nationwide want to know how Saban can win more championships than any other college football coach (besides the iconic Paul "Bear" Bryant, who is tied with Saban for six championships each). During a 2018 SEC Media Day interview, Saban revealed the key to his success: Oatmeal Creme Pies.
"Two is kind of, supposedly, my quota as soon as I get up in the morning," he said. "I had two today before the coffee pot was full."
Saban's love for this packaged pastry can be attested in his performance during a Little Debbie commercial. Originally airing in 2010, Saban was seen adhering to his infamous breakfast habits while discussing game day traditions.
Since the commercial aired, Little Debbie has shown Saban lots of love and continues to supply his Oatmeal Creme Pie addiction.
Saban is also known for appearing in a series of Aflac commercials that mimic a college athlete's recruitment process. From "The Visit" to a "Campus Tour" to "Commitment Day," Saban and the Aflac Duck prove they can recruit just about anybody in the three-part ad campaign.
Saban, nearly convinced the duck was real, was sad to part ways with his new buddy after the commercials were shot.
"And when you look at the duck, you really think the duck is real, and when you talk to the duck, you really think the duck is real," he said in an interview with AL.com. "So I had a new friend for a while."
Whether it's a quick spot on the silver screen or as the face of a hot new product, it's pretty clear that Saban's influence transcends the sports world and make any entertainment lover do a double-take.
What do you think he'll star in next? Let us know your thoughts on Facebook here or download our app and chat with us.
Enter your number to get our free mobile app
---
Career Statistical Leaders: The Alabama Football Record Book