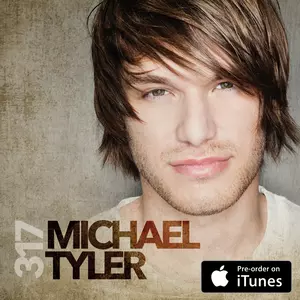 Interview: Michael Tyler Wanted '317' 'to Sound So Different'
Reviver Records
Michael Tyler knew from an early age that he wanted to make music, especially country music. When the 23-year-old began putting those plans into place, by moving to Nashville from his native Thayer, Mo., when he was just 18 years old, he found the inspiration for his freshman album, 317, out Friday (March 17).
"I didn't want to self-title my debut album, just because everybody does [that]," Tyler tells The Boot. "But 317 is special to me because the first time I actually drove to Nashville by myself, without my parents or my brother and sister, I drove by myself, packed my car, pulled into my first apartment, and I looked down at the trip odometer, and it said '317.' So it was 317 miles to my new doorstep from my hometown.
"I've always remembered that," Tyler adds, "as a way to remember where you came from."
An 11-track album, Tyler's 317 covers a wide range of subject matter and sounds, giving listeners an introduction to Tyler's versatility as a songwriter and an artist: There's the rocking, appropriately titled "Party Song," the nostalgic "Missouri," the anthemic "Good at Being Young" and more. The singer-songwriter acknowledges that the only thing tying the songs together is that they all appear on his debut record.
"I wanted to sound so different. I didn't want every song to sound the same," Tyler notes. "[People] were like, 'Well, some of these songs don't sound like they're on the same album.' I said, 'That's what I want. I don't want every song to sound the same.'
"I want someone to listen to 317 and hear the stories about where I grew up, and I want them to relate to the songs," Tyler continues. "I want people to feel. I want them to get emotional, and then I want them to have a good time with some other songs."
"I wrote or co-wrote every one [of the songs on the album]," Tyler shares. "It's actually not that important to me if I write the songs that I sing, but I've been writing for this thing for six years, and we had stockpiled some songs: We had 30 or 40 songs, we narrowed them down to 25, then we narrowed them down to 18, and then 11. We felt like we had 11 great songs that were as 'me' as possible, because I wrote them ...
"I think what makes me stand out are the songs," he adds. "Just how different the music is, and how real I think the songs are compared to some things that you might overlook."
When it came time to film the music video for his debut single, "They Can't See," Tyler enlisted several of his close friends to appear in the clip for the heartwarming love song, shot in Music City.
"It talks about things [people other than a significant other] can't see, and -- like, [songwriter] Josh Mirenda and his wife, I was at their wedding; it was the most real wedding, one of the most real connections I've seen, so I had to have them in my video," Tyler explains. "Shane Minor and his wife -- I love Shane Minor, and I've written with him for a long time. I got him in the video, and his kids are in the video. [Publisher and radio host] Charlie Monk was with his wife in there; he was being super sweet for us. It's just super fun."
"They Can't See" has a bit of a jazzy feel to it, and a pop lean, but country music is in Tyler's blood; in fact, he recently discovered that he is related to Jimmie Rodgers.
"I've always loved country music more than any other genre, and I've always connected to it more than any other genre," Tyler admits. "So I think it's just the weird thing that's always been in my head that country music is what I'm going to do."
Still, Tyler is a bit anxious about how 317 will be received.
"I'm so nervous. I spent almost half of my life trying to write for this thing, and now that it's coming out, I'm nervous to see if people like it," Tyler says. "I'm sure they will ... I don't know if anybody could possibly be ready for something like that."
Tyler has recently been out on the road with LoCash, on their Ones to Watch Tour. A list of all of his upcoming shows is available on his website, and 317 is available for purchase on Amazon and iTunes.
More New Country Artists to Watch in 2017