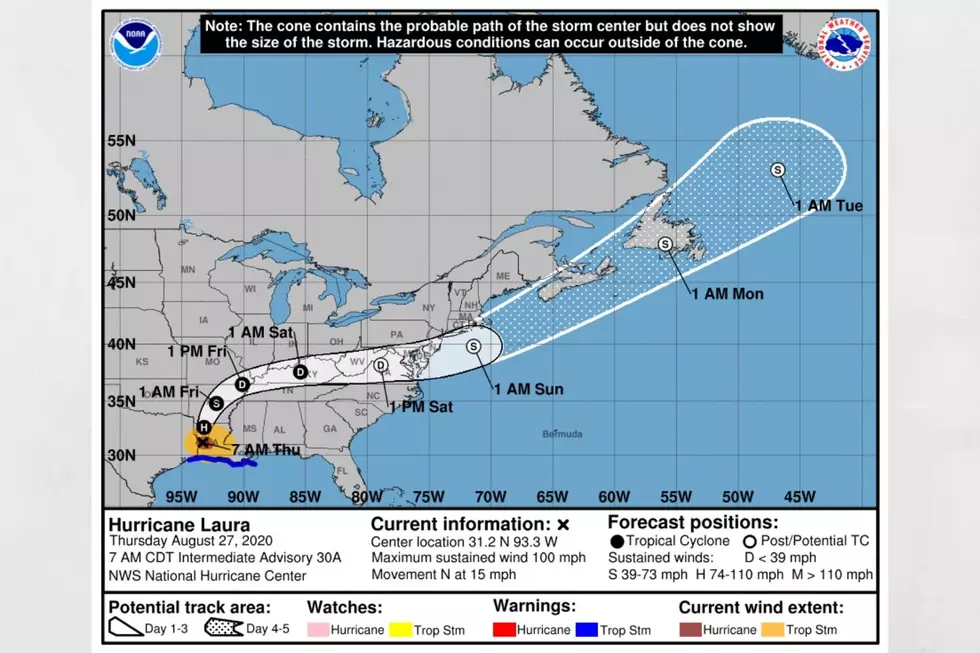 Laura: Over 400K without Power, Stranded People, & Damage
National Weather Service
Laura: Over 400K without Power, Stranded People, & Damage
Hurricane Laura made landfall around 1 am on Thursday, August 27, 2020, pretty close to Cameron, Louisiana, which is about roughly about 50 miles away from Lake Charles, LA.  At the time of landfall Hurricane Laura was a category 4 hurricane with 150 mph winds.
According to KPLC, "this makes it the most powerful hurricane to strike Louisiana in over 150 years."  Also, in an interview with Tony Guillory, president of the Calcasieu Parish Police Jury, he said that "There are some people still in town and people are calling ... but there ain't no way to get to them," said early Thursday morning over the phone as he hunkered down in a Lake Charles government building that was shaking from the storm."
Currently, Laura is a category 2 hurricane as the system continues to push inland with winds of 110 mph. Also, KPLC reported that "with nearly 470,000 homes and businesses without power in the two states, near-constant lightning provided the only light for some." According to the Weather Channel, "Laura has produced the following wind gusts in Louisiana early Thursday morning:
Projected remaining track for Laura
As Laura moves through Louisiana today headed towards Arkansas, the system will weaken to a tropical storm.  Friday, Laura should move more eastern and predicted to become a tropical depression as it heads towards Kentucky and Tennessee.  According to CNN Weather, "The storm surge for Laura could spread up to 30 miles inland in southwest Louisiana and Southeast Texas — reaching all the way to Interstate 10 potentially between Beaumont and Lake Charles. The National Hurricane Center warned the surge could be "unsurvivable" in some areas."
 What does this all mean for Alabama?
We are still tracking Laura and even through the remnants of the system, as that could affect Alabama on Friday into Friday evening.  I should have some clarity and guidance from National Weather Service later today on more projections.  However, at this time, there is a Hazardous Weather Outlook for our listening areas for Friday.  The National Weather Service Birmingham noted that "the remnants of Laura could bring a threat for damaging winds or a brief tornado from noon Friday to midnight Friday night. The threat is expected to include areas near and northwest of Interstate 59."  Let's continue sending positive thoughts to everyone that has been affected by Hurricane Laura and those still in the path.
Enter your number to get our free mobile app