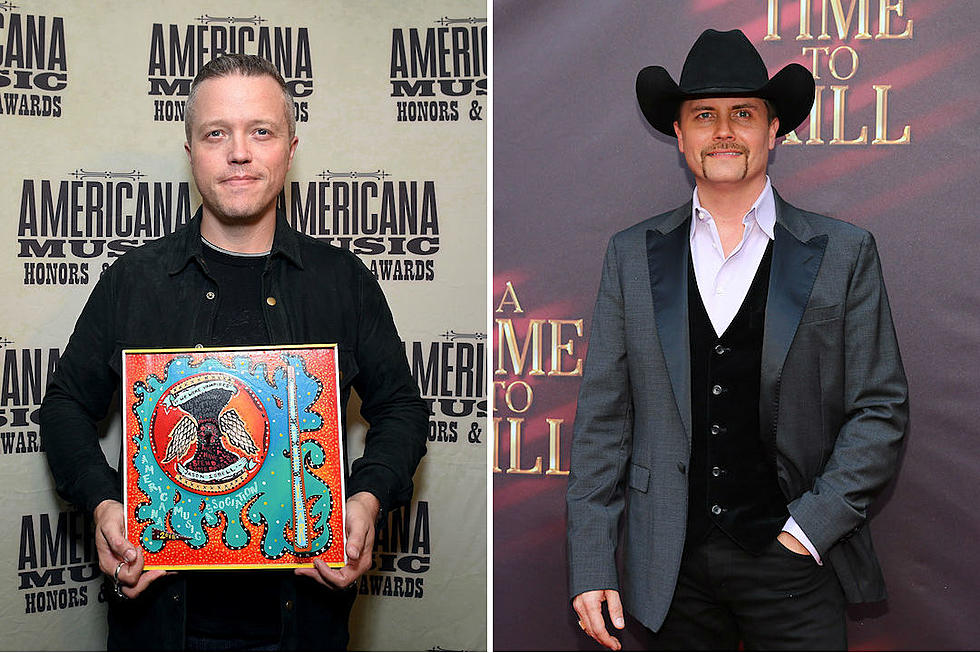 Jason Isbell and John Rich Agree to Disagree in Political Twitter Exchange
Jason Kempin, Neilson Barnard, Getty Images
Jason Isbell and John Rich may be on opposite ends of the political spectrum, but that doesn't mean they need to attack each other over social media. In fact, the pair came together over Twitter on Friday (Oct. 26) to express that their political disagreements won't cause them to vilify each other -- personally or musically -- and that they wish national leaders could have similarly civil discussions.
"I think it's great that [Jason Isbell] is vocal about his beliefs. So am I," Rich explained in a tweet. "I also dig his music, even though he doesn't like mine. The point is, we should be able to disagree on policies in this country and still be unified through our belief in America and what it stands for."
Isbell replied to the tweet, saying that he was appreciative of Rich's democratic approach to their divergent views and adding that he wished politicians in power could show similar respect to each other, even if they have opposing views. "Wish more of our Congresspeople could have this type of discussion," he added.
Rich went on to say that he hoped he and Isbell could have a civil chat about their view points, adding that such a discussion could serve as a positive example for people on both sides of the political divide. "I bet we have more in common than we realize," he said, adding a message to Isbell to enjoy his upcoming concerts. "Good luck on your shows in Nashville. Tear 'em up!" Rich concluded.
Both artists have been vocal about political issues. Rich recently announced his intention to boycott athletic company Nike after the brand revealed its decision to feature former NFL quarterback Colin Kaepernik in its 30th anniversary ad campaign. Formerly a quarterback for the San Francisco 49ers, Kaepernik stirred political controversy when he began kneeling during the National Anthem in the 2016-2017 season in protest against police brutality and racial inequality.
For his part, Isbell has long been open about his support of Democratic candidates, including endorsing the now-successful Senate candidate Doug Jones in the 2017 Alabama election. More recently, Isbell has spoken out in support of Tennessee Senate hopeful Phil Bredeson, even joking in a recent MSNBC interview that he was planning to head to the polls specifically to cancel out Rich's vote.
"The people you disagree with are showing up to vote ... so if you want to cancel them out, do it," Isbell said. "Personally, I'm going to vote to cancel out John Rich from the band Big & Rich. His vote is not going to matter because I'm going to go and vote the opposite."
Country Music's Most Political Artists