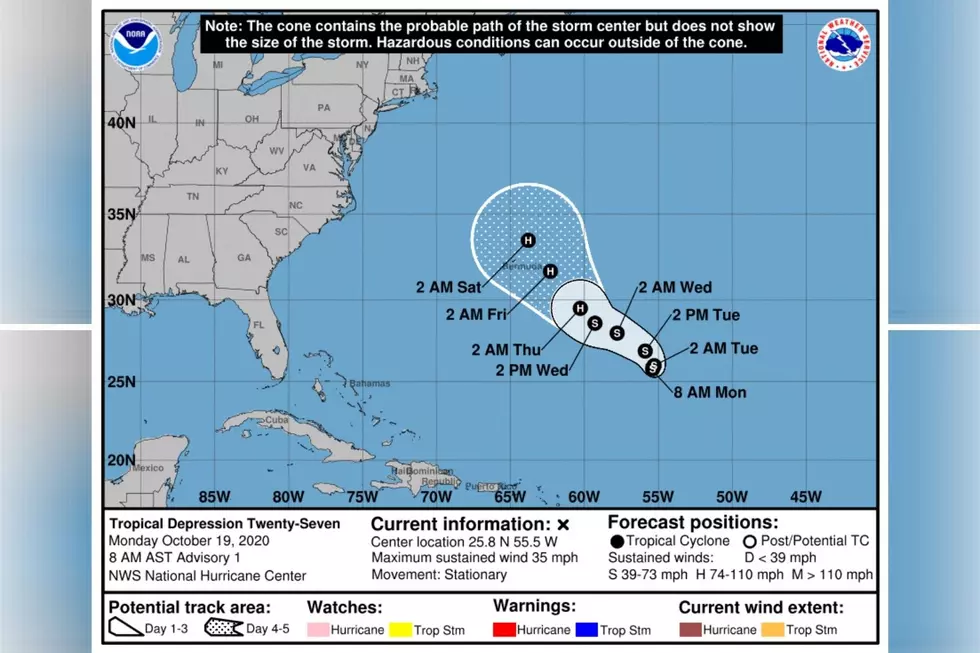 Hurricane Season is Still Going Strong: Tropical Storm Epsilon
National Hurricane Center
Update as of 10.19.2020 at 11:50 am
Tropical Depression Twenty-Seven has been upgraded to Tropical Storm Epsilon. It is still projected to track close to Bermuda.  It is possible that Epsilon could be upgraded to Hurricane as well.
Also, we are closely monitoring a system in the western Caribbean Seas that could have the potential for tropical development.
Update as of 10.19.2020 at 8 am
The 2020 Hurricane Season is still going strong. It has been so active that we are already in the Greek Alphabet naming system. It has been for sure a record-breaking hurricane season.
We now have Tropical Depression Twenty-Seven to monitor. The system is "located over the central Atlantic Ocean about 720 miles southeast of Bermuda," per the National Hurricane Center.
Tropical Depression Twenty-Seven is moving slowly and nearly stationary. The system has the potential to gradually develop over the next 72 hours. It is projected to become a tropical storm soon. Also, the storm has the potential to become a Hurricane later on this week.
Remember, we are still in the midst of hurricane season, and our areas secondary tornado season is not too far away. Remember that our Fall severe weather season in Alabama typically runs from November until mid-December.  However, at times it fluctuates; it could run from late October until December (even late December).
We will continue to monitor this tropical depression and bring you updates.
(Source) For more from the National Hurricane Center, click here.
Enter your number to get our free mobile app
NFL Coaches that Alabamians Love