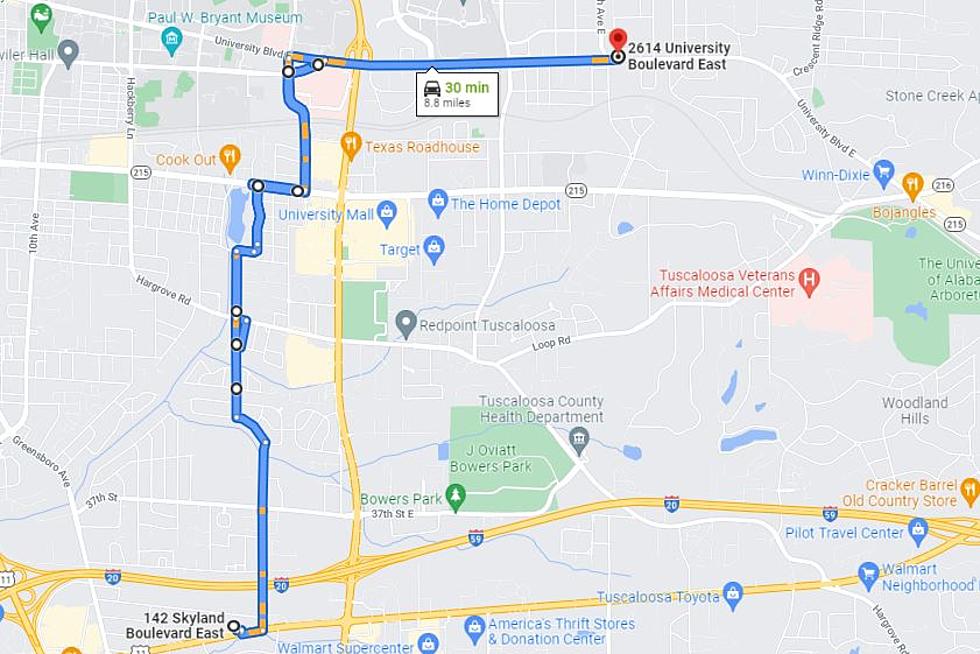 Are Tuscaloosa, Alabama Driving Shortcuts Actually Worth It?
Google Map
Why is everyone in Tuscaloosa obsessed with taking shortcuts while zipping around the city? It makes zero sense to me. I'm asking you to help me make sense of it all.
I'll admit the only shortcut I take is if I'm on Skyland Boulevard trying to get on 359. When the traffic is backed up (because people don't know how to turn right on to 359), I will zip down Greensboro and then jump on 359. That shortcut makes sense.
It's the shortcuts that ADD time to your travel that make ZERO sense.
Tuscaloosa is considered one of the 5 major cities in Alabama, ranking behind Birmingham, Huntsville, Montgomery, and Mobile. If you ask me, the traffic in Tuscaloosa doesn't compare to those cities. However, we do have an influx of construction and bad drivers. Oh, let's not talk about 20/59 and the sea of red lights.
But still, shortcuts in Tuscaloosa? (Now, here comes the VENT)
The other week I was part of a caravan to an event with our sister radio stations. We went directly by way of Skyland Boulevard, to McFarland Boulevard, to University Boulevard towards Alberta. Less than 5 miles from the radio station and around a 10-minute drive.
The drive back, another story!
We did a caravan back, and I was following a co-worker taking a "shortcut." This trip was almost 10 miles and took nearly 25 minutes. How do I know? I google mapped it. Then to top it off, he had his lights off, and I was trying to get his attention about that, and he ignored me. (Rolling my eyes hard on that one)
Look at the "shortcut" map
We finally got to a place in the middle of someone's neighborhood near Forest Lake, pulled up on the side of him, and he rolled down the window exclaiming, "we are taking a shortcut." I was like, dude, I'm just trying to tell you that your lights are off, and I didn't want you to get a ticket or accident. DC with 95.3 The Bear was with me, and we laughed so loud all the way back. I think we were crying. That's how much we laughed. We are still laughing about it.
I get it; drivers on Skyland and McFarland are bad, but it is worth adding on 10 to 15 minutes to your drive for a "shortcut." Seriously, I got things to do, and adding time to my drive is not one of them.
The sad part, that's not my first "let's take this shortcut" adventure I've had in Druid City. I've decided that I'm just going to go "my" way from now on. The only time I like to ride through neighborhoods is at Christmas time to see all the decorations.
It just seems like everyone here is fanatical with shortcuts. Do you believe in the "shortcut" theory in Tuscaloosa? Let me know, email me at maryk@townsquaremedia.com
The 12 Absolute WORST Parking Lots in Tuscaloosa, Alabama
From disrespectful parkers to terrible parking lots, here are the worst places to leave your car in Tuscaloosa.
Top 20 Safest Alabama Cities
Take time to find out where your city ranks on the safest Alabama cities list.
10 Most Dangerous Animals in Alabama
The state of Alabama is known for many things, such as college football and southern hospitality, but it is also home to some not-so-friendly critters. This is a list of some of the most dangerous animals in random order.
Most Dangerous Cities in Alabama
Find out if your city made the 10 Most Dangerous Cities in Alabama list.
6 Things Southerners Say Differently Than Anyone Else
Alabama Lovers: Check Out These 15 Dazzlingly FREE Phone Wallpapers
Let "Alabama the Beautiful" spruce up your phone with these 15 free wallpapers. Save one, or save them all: you can't go wrong!
To save the photo(s) on mobile, just long-press on an image to bring up the menu to save it to your camera roll. If on desktop, simply right-click on a photo to save it to your computer.
Downright Unbelievable Quirky Alabama Town Names
Have You Heard of these Quirky Alabama Towns? Some are Downright Unbelievable.
The ULTIMATE List of Alabama Day Trips
Gas up the car, and let's hit the road because it's "Day Trip" season.