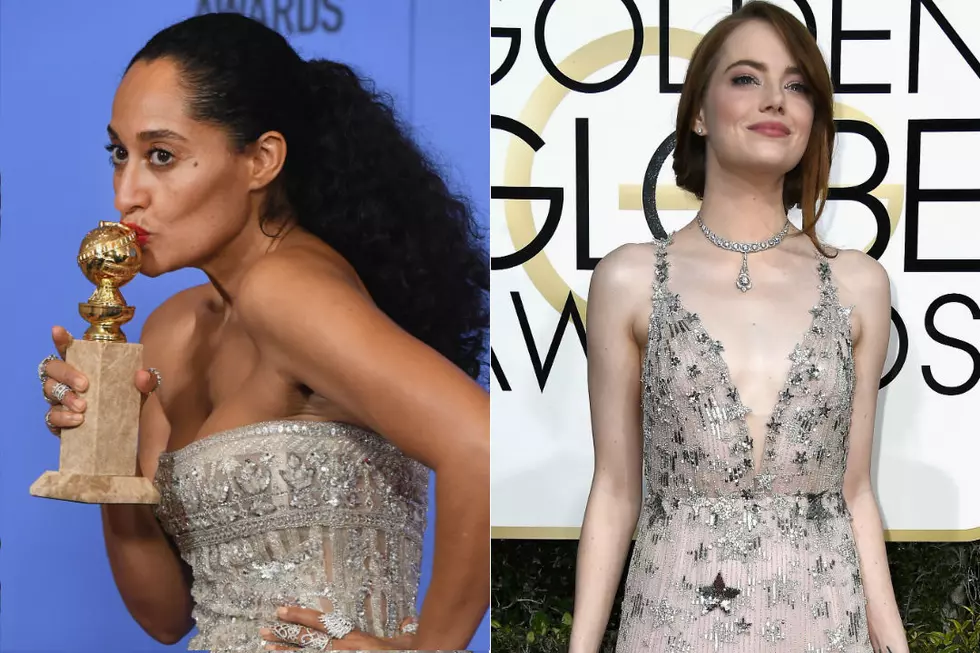 2017 Golden Globe Awards: The Best + Worst Moments
Kevin Winter/Frazer Harrison, Getty Images
Hollywood's most exciting (and booze-soaked) awards show — the 2017 Golden Globe Awards — moved to prove it can still shake things up at the 74th annual ceremony.
Hosted by Jimmy Fallon, the 2017 Golden Globes wasted no time trying to nail down the zeitgeist. A musical introduction featured nods to Stranger Things and Game of Thrones and Fallon's opening monologue immediately struck down President-elect Donald Trump. And that was just the beginning.
Between an incredible and impassioned speech delivered by Meryl Streep and the very unfortunate birth of "Hidden Fences," the show vacillated between some definite highs and valley-deep lows. Look back at the best and worst of the 2017 Golden Globes below.
That Intro: Between answering the question of whether Barb from Stranger Things was still alive, nodding to Jon Snow and Game of Thrones and delivering a La La Land song-and-dance number, the Golden Globes began in truly cinematic fashion.
The Donald Trump jokes: We knew they were coming, but that four Donald Trump jokes came from Fallon's opening monologue, alone, was a pretty clear sign the President-elect would be in the show's crosshairs all night.
People of color get recognized, nice! Within just a few moments, Tracee Ellis Ross won a trophy for her work on Blackish and Atlanta got some serious credit with a win for Best Comedy. The Oscars might be #sowhite, but the Golden Globes were certainly not.
Jenna Bush Hager Mangles Hidden Figures: While interviewing Pharrell about Hidden Figures, the inspiring story of black scientists, Bush Hager called the film Hidden Fences, mixing Hidden Figures with Fences, another film that features black actors as leads. Face, meet palm.
THEN MICHAEL KEATON DID IT TOO. WHAT IS WRONG WITH PEOPLE.
Wow, we're still doing jokes about Sofia Vegara's accent: Seriously, enough.
Amy Schumer and Goldie Hawn offer convincing shtick: Goldie Hawn couldn't see the teleprompter and Amy Schumer volunteered to serve as her sight guide! Not the most inventive joke, but the Snatched stars are consummate comedians and did it really well.
Debbie Reynolds and Carrie Fisher get a spotlight feature: That Hollywood honored the mother and daughter — who died within a day of each other in December 2016 — was one of the show's best moments. That we had to come to grips with their passing at all, though, was one of the worst.
Kristen Wiig and Steve Carell make animated features a morbid drag: Cartoon mice and storybook castles devolved into triggers for horrible memories for both Wiig and Carell. While presenting the award for Best Motion Picture — Animated, the comedians both shared devastating tales about the first times they saw cartoons, which collectively amounted to dead dogs and a missing grandfather.
Meryl Streep said it. MERYL STREEP SAID IT: While accepting the distinction of the Cecil B DeMille Lifetime Achievement Award, Streep championed foreign artists, decried hateful demagoguery and said everything everyone else had been too afraid to say. She noted that if President-elect Donald Trump were to deport certain non native-born Americans, "You'll have nothing to watch but football and mixed martial arts, which are not the arts."
Check out the Best of the 2017 Golden Globes Red Carpet: