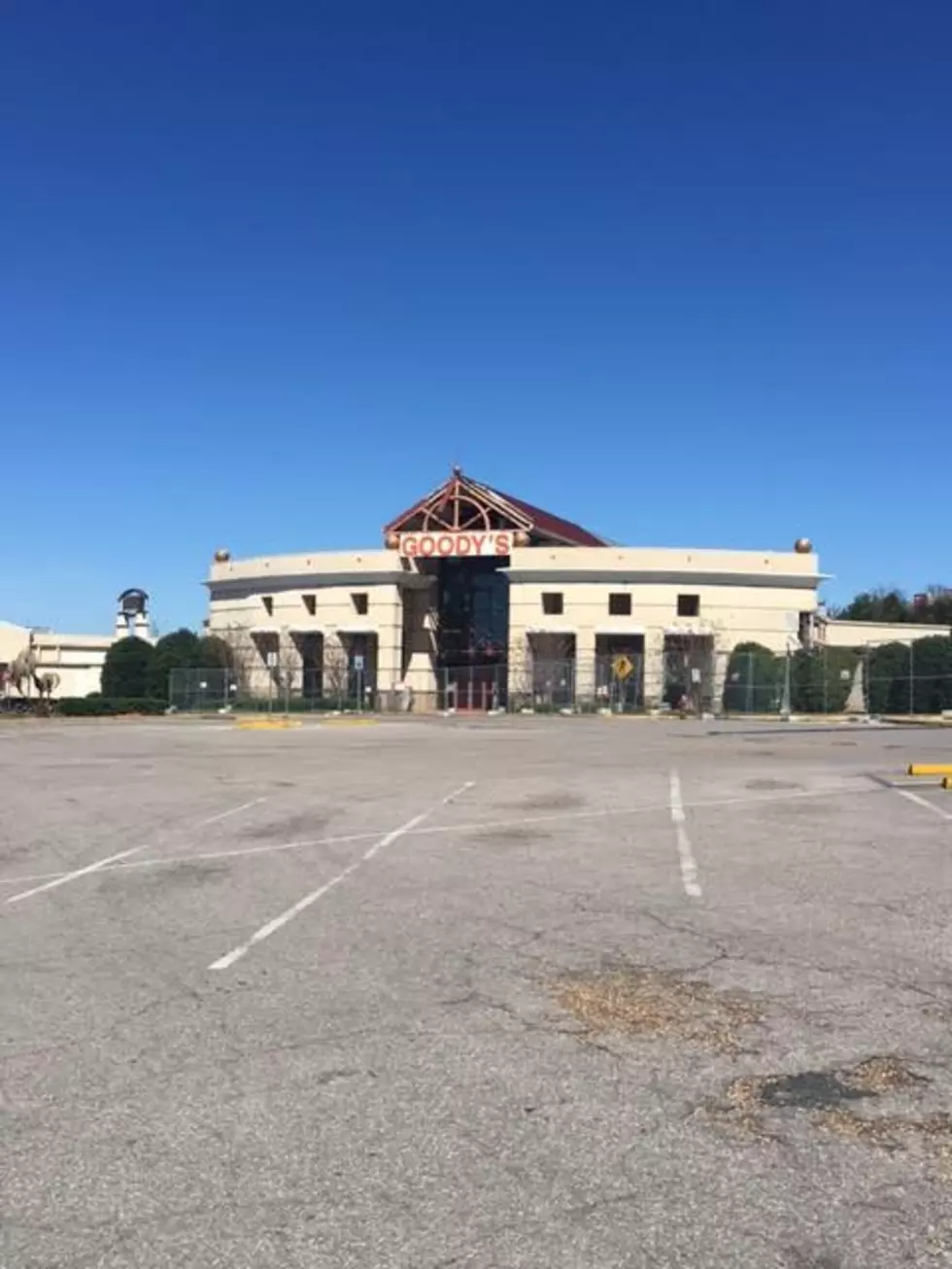 Top 5 Things That Should Be Done With The Old McFarland Mall
Photo Courtesy Louie Linguini
So, yesterday as I was taking a drive on a beautiful Sunday afternoon in Tuscaloosa, I happened to cut through the old McFarland Mall parking lot to avoid the traffic that was stuck at the intersection of McFarland and Skyland Boulevard.
As I was cutting through, I got a look at the Old McFarland Mall, and got to thinking what a wonderful place it used to be. At one time, this mall was home to such stores as: Dillards, Gayfers, Goody's, Heilig Myers, TJ Maxx, Piccadilly Cafeteria, NGC Twin Theaters, The Arcade Room, The Food Court, and Kip Tyner's "Talk Of The Towns" TV Show. In fact, if you would like to read an excellent history of McFarland Mall, check out their wiki page HERE
As I was thinking about McFarland Mall's "Good Old Days", I got to wondering about it's FUTURE. The Mall is in a current, perpetual state, of being completely torn down. It's been in this state for close to 3 years now. I never see any workers there, (or maybe they are there, and they're simply taking the world's longest coffee break). However, progress has been pretty slow. Be that as it may, I got to wondering, what should McFarland Mall Land Space be used for, after the mall has been demolished. Therefore, here are my Top 5 Things That Should Be Done With The Old McFarland Mall.
5) An Outlet Mall: This one is pretty obvious, and is the eventual plan for site. It even has a name already,"Encore". If it gets some nice shops in there like: Sak's Fifth Avenue, A Bed Bath & Beyond, and a few nice restaurants like: Macaroni Grill, Cheesecake Factory, P.F. Changs, and  Dave & Busters, it could very well do some Great Business. Throw in a Publix, and a Costco in there, and I'm one happy camper!
4) An Amusement/Waterpark: I know Splash Adventure is up the road 34 miles, but why can't Tuscaloosa have it's OWN Waterpark? Fayette even has one. Add a bunch of Amusement Park Rides to it, too. The land is being used for traveling carnivals right now, anyway. Why not used the land for a permanent amusement park? May I suggest, "Six Flags Over Tuscaloosa"?
3) A Casino: Everyone might not agree with this suggestion, but I think the current McFarland Mall location would be a perfect place for a Resort & Casino! Get some concerts in there, and a few 5 Star restaurants, too. I'm tired of driving 2 and a half hours to Philadelphia just to lose my money. I'd rather lose my money here in Tuscaloosa!
2) A Convention Center/Arena: This land would be an ideal place to have a dedicated Convention Center/Arena.  We could get some MAJOR concerts in town like we used to. (I mean, Elvis & Led Zeppelin once played Coleman Coliseum, both at the height of their careers). Plus, if we built a dedicated Convention Center/ Arena in town, Deontay "The Bronze Bomber" Wilder, wouldn't have to go up to Birmingham to defend his Championship Belt. He could defend it RIGHT HERE in his hometown of Tuscaloosa, Alabama, where he SHOULD be defending it in the first place!
And The Number 1 reason that the McFarland Mall Land could be used for, (Drum Roll, Please),
Yes!!! The Land could be used to build "THE WORLD'S LARGEST LONG JOHN SILVER'S!"  Sounds like a reasonable plan to me :-)
And there you have it, my"Top 5 Things That Should Be Done With The Old McFarland Mall".  It will be interesting to see what becomes of the current location, but until then, I can only dream:-)