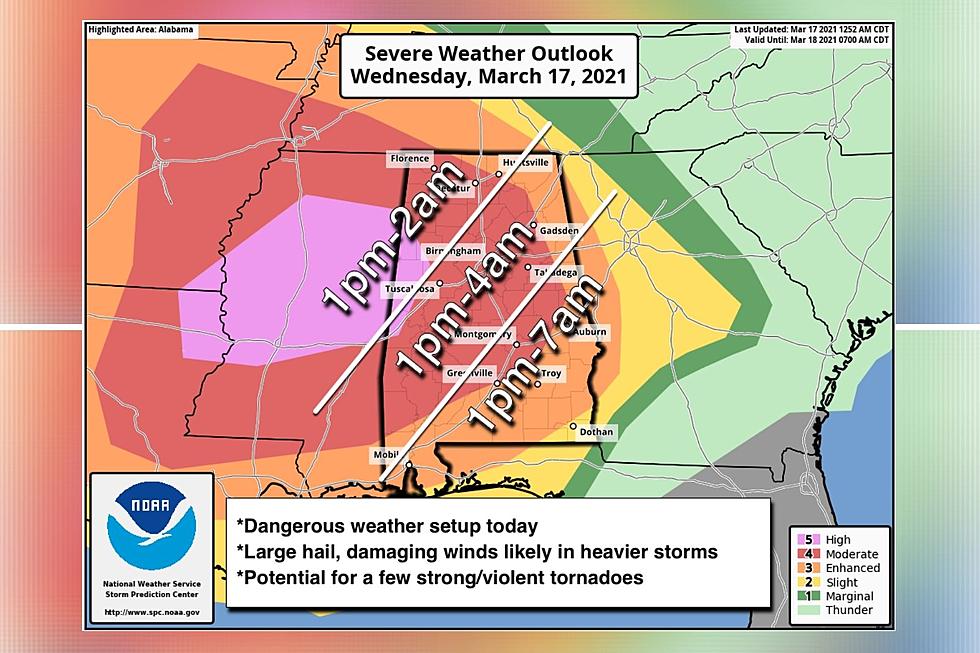 Operation Storm Watch in Full Swing to Keep Alabamians Safe
National Weather Service
Townsquare Media Tuscaloosa's Operation Storm Watch, powered by Safe-T-Shelter, is in full swing. We are closely monitoring the potential severe weather situation in Alabama. The Weather Channel mentioned that this system would be affecting multiple states such as the "central Gulf Coast and lower Mississippi Valley to possibly as far east as western Georgia and as far north as Tennessee and the lower Ohio Valley."
According to the National Weather Service in Birmingham, the timeline is this afternoon, into the evening, overnight hours, and early morning. We are stressing to you to stay weather aware today.
James Spann, ABC 33/40, and Townsquare Media Tuscaloosa Chief Meteorologist wants us to know that this could be a "VOLATILE SITUATION: We have a dangerous severe weather setup for Alabama later today, tonight, and early tomorrow morning."
Also, the Storm Prediction Center has issued a "high risk" (level 5/5) for far West Alabama; most of the rest of the state is in a "moderate risk" (level 4/5). Please don't get too hung up in risk categories or map colors... just understand the entire state has a significant risk of severe storms."
Our Townsquare Media radio stations will be on stand-by to go live with the necessary information. You can listen on the following stations and also install their free app:
Be sure to pay attention today. The Weather Channel reminds us that "the greatest threat of tornadoes is expected from parts of central and eastern Arkansas and northeastern Louisiana into western Tennessee, northern and central Mississippi and much of Alabama. There is the possibility of strong tornadoes in this corridor."
Other great information
Alabama Governor Kay Ivey issued a State of Emergency where the emergency declaration went into effect on Tuesday, March 16, 2021, at 6 pm. Click here for details of the State Emergency for Severe Weather in Alabama from the Tuscaloosa Thread. 
Click here for Severe Weather Closing and Cancellations.
Click here to Find Your Nearest Storm Shelters.
Need help setting up your phone to receive severe weather alerts, click here.
Safe-T-Shelter is powering the Townsquare Media Tuscaloosa's Operation Storm Watch.
(Source) Click here to follow the Facebook Page for James Spann. For more from the National Weather Service Birmingham, click here. For more from The Weather Channel, click here.
Ways to Receive Severe Weather Information
Severe Weather Terminology You Should Know